This lucky California girl received her Rose Gold iPhone 6s three days early and lit up Twitter with photos and videos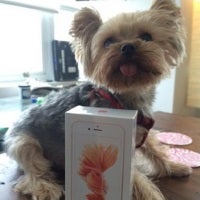 A brand new
iPhone 6s
in Rose Gold is surely a wonderful sight to wake up to, especially when it happens some three days early! By some strange turn of events, graphic designer Adrienne (based in San Diego, Calif.) has already received her AT&T
iPhone 6s in Rose Gold
and set Twitter ablaze with photos of what is certainly one of the first new iPhones in the public domain. Being famous for owning an iPhone is so 2015!
Anyway, it appears that the pre-order delivery process is going full steam ahead so everything can happen in time for September 25. A few days ago, some customers (in unspecified countries) received notifications that their handsets had started shipping out of China. Apple does require its logistic partners hold pre-order shipments until launch day, but with the sheer quantity of iPhones set for processing delivery, a few are bound to escape out in the wild, there's no way around that.
Anyway, feel free to check out Adrienne's Twitter account (linked as source) for some photos and videos taken with the iPhone 6s' new 12MP rear camera. They are heavily compressed, though, and do not correctly represent the device's photography potential. Adrienne also had the good thought of benchmarking the device with GeekBench, accomplishing a single-core score of 2,391 and multi-score of 4,806. This is a credible improvement over the iPhone 6's result of 1,609 (single) and 2879 (multi), and it is a typical occurrance between iPhone generations.
source:
@MoonshineDesign
via
Apple Insider