This is the new Android 5.0 build for the Samsung Galaxy S5 with more Material design
77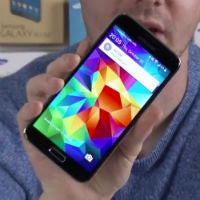 We've already seen an earlier version of the
Android 5.0 update
for the Samsung Galaxy S5, and the rumor has it that the Lollipop update from Samsung will be coming as soon as
December
. Sammy has been working hard on this, and now we're getting to see a newer version of the Android 5.0 update which includes more Material design elements, and UI tweaks.
Some of the updates are more polishing of the UI, like adding text labels to the tabs in the Clock app, removing the grid lines in the Calculator app, or shifting the on/off toggles on settings pages to the top bar. Colors have been altered throughout, and the font used has been updated to match what you'd find in the Galaxy Note 4. As you'd find in stock Android 5.0, the Google Search bar has been added to the overview (aka recents) menu, and more of Samsung's stock apps now have the bold color bar on top to match Material design around the system.
There are also a bunch of new animations throughout the apps and system, and everything is much more fluid and fast. The video below shows just how smooth animations and navigation is now (fair warning though, the video does start out with porn-like bass music, so try not to get too excited by the Lollipop sexiness.)

Samsung is definitely making big strides in these updates, and based on what we're seeing, it seems very likely that the 5.0 update will be ready for the Galaxy S5 in December. This looks like great work by Samsung. Let's hope carriers don't cause too many delays in getting this to users.