This is the Project Ara smartphone that could have been
10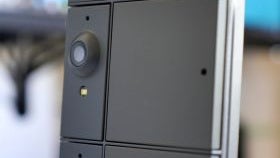 Back in early September, Google confirmed that it has canceled Project Ara, its attempt at creating a modular smartphone. Today a new leak reveals a prototype Project Ara unit, complete with the full spec rundown and high-definition photos.
Be warned that, for those who've frowned at Google's decision to cancel Project Ara, this info does not sweeten the blow.
According to Phandroid, the tech blog that published the info, the prototype's metal endoskeleton measures 152 x 74mm. The endoskeleton houses the 5.46-inch 1080p display, a few internal components that aren't supposed to be removable, as well as module connectors on the back. With the modules attached, the Project Ara developer unit measures 12.5mm across its waist. By modern standards, that's very thick.
The endoskeleton also houses a Qualcomm Snapdragon 810 chipset, 3GB of RAM, and a front-facing 5MP camera. These components are fixed into place and were not designed to be upgradeable.
The modules set in place on the prototype unit are a 3,450mAh battery, a 2.1MP rear camera, and 32GB of integrated storage. The modules are set into place with the help of small electromagnets. The unit also comes with a special app that allows for the modules to be unlocked.
Project Ara was Google's take on Phoneblocks, a modular phone concept that aimed to reduce electronic waste by allowing smartphone users to upgrade certain components while retaining everything else. For instance, one could easily upgrade the primary camera while keeping the endoskeleton instead of buying a new phone altogether. Interesting as the project may be, however, it looks like Google has failed to achieve its plan of establishing a platform that component makers would build hardware for.
For more photos of the Project Ara developer units, head on over to the source link below.
What do you guys think of this leaked prototype? Was anyone hoping for Project Ara to become a reality?