This Friday's free phones at Best Buy Mobile
5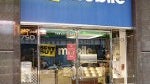 According to our trusted source, Best Buy Mobile is gearing up for what could be their most successful "Free Phone Friday" yet as the final Friday in October is bringing a tasty serving of some smartphone goodness for all of us to take advantage of.
Kicking things off is the big one. Best Buy Mobile has only offered only 1 free device on each network, but this week Verizon is getting twice the love. Going free on Friday is the HTC Droid Incredible and the Motorola Droid 2. Considering each device usually sells for $199.99 each at their retail locations, that is quite the discount.
T-Mobile is also seeing one of their top-end Android phones getting slapped with the free price-tag by way of the Samsung Vibrant. The Vibrant held steady at the $149.99 price point, so one again this is a huge discount from the everyday price.
With all of this goodness being offered on the Verizon and T-Mobile side of things, the Sprint and AT&T offerings from Best Buy are a bit of a disappointment. The free phone for AT&T is the Samsung Flight 2 (was anybody aware that this was a smartphone?).
The BlackBerry Curve 3G is going for free on Sprint, but with phones like the Incredible and the Vibrant going for free would a phone like the Samsung Transform (or hell, the HTC Evo or Samsung Epic 4G) been that big of a deal? At the moment, the Curve 3G goes for $19.99 for a new customer, with existing customers stuck paying $49.99. That is not nearly the discount that Verizon and T-Mobile customers are lucky enough to have the chance at.
Is anybody out there going to take advantage of these free phones this Friday? There may be a flurry of smartphone, but these deals may be hard to pass up. Tell us what you think in the comments below.