This $50 gizmo brings Android 4.1 Jelly Bean to your HDTV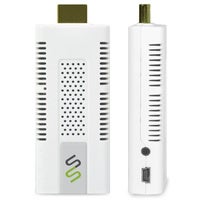 The gizmo that you see in the photo is small enough to fit in the palm of your hand, but has the potential to entertain you and the whole family all day long. That's because the FAVI SmartStick, as the device is called, is a teeny weeny computer that plugs in the HDMI port of your TV. Powered by Android 4.1 Jelly Bean, it can stream media from Netflix, Hulu, YouTube, Pandora or a PC connected to your home Wi-Fi network. One can even play Angry Birds on the big screen, browse the internet using the Android web browser, or download apps from Google Play.
At the same time, getting one of these gadgets with 4GB of on-board storage will set you back a mere $50. The 8GB model is priced at $80 for those who might need the extra memory. An optional wireless keyboard with built-in touchpad and media control buttons is also being offered for $40. Don't get that wallet out, however, as the FAVI SmartStick is not out yet. The first units are scheduled to start shipping in late October, but the impatient are free to pre-order one from the company's web page.