This $12 clone of the Nokia 3310 looks almost convincing until you realize the terribleness of it
6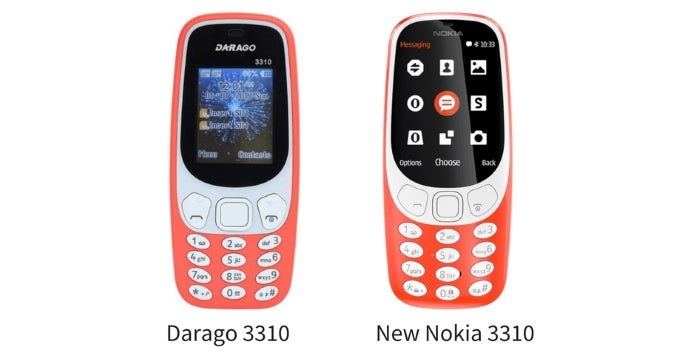 Smartphone clone artists never cease to amaze us. They can build a visually convincing replica of almost any upcoming phone just by looking at some blurry images. They can also re-build a $50 phone, the Nokia 3310, and sell it for $12. That's what, two movie tickets? One expensive movie ticket? You get the point – it's mighty cheap.
Such is the case with Indian manufacturer Darago, whose Nokia
3310
cover version almost looks like the real thing... until you put it by the original side and have a gander at the awful, awful display. Whereas the new Nokia 3310 has this cute
2.4
-inch display that looks remarkably sharp for what it is, the knock-off gets a 1.77-inch screen that's straight out of 2007 or so. The rear camera is a 0.3MP shooter and the phone makes do with a single megabyte of RAM. The actual Nokia 3310 is a superphone with its 2MP rear camera and 16MB of RAM compared to this.
On the upside, $12 isn't much to pay for a new and working phone
Thankfully, the knock-off Nokia 3310 is emblazoned with Darago's logo, so it can be easily distinguished from the original and you won't fall for potential scams. While the truth is that even a super-modest phone like the Durago 3310 will do the job as a secondary phone, the
Nokia 3310
is very likely to be much more pleasant to operate, and reliable.
As always, be careful how much and where you spend it. If a single Indian manufacturer can push a N3310 knock-off, the online market will be flooded with clones of various quality in no time. If you are after this feature phone, we advise doing some extra effort to ensure you're buying genuine.
ALSO READ
source:
PhoneRadar