Nokia 3310 is now shipping, all Nokia phones to be launched globally this quarter
2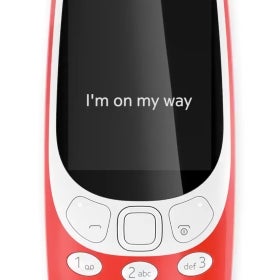 According to Nokia's Twitter account, the new
Nokia 3310
is now shipping. This was announced with a playful little video, which you can see at the end of this article.
However, we're not sure what this means exactly, as no retailers have been listed on Nokia's site as selling the device. We assume that the new iteration of the iconic handset is probably on its way to stores around the world, though, as the UK retailer Clove Technology is already accepting pre-orders. However, those that decided to buy their new feature phone via Clove will have to wait until mid-June to receive it, according to the retailer's website.
We're not the only ones confused by the meaning of
"now shipping"
, though. Users have taken to Twitter to ask for more details on when the handset will actually make it to their own two hands, but Nokia has opted to answer with the same copy-pasted response to most of them:
Hi, we will be releasing our products globally in the next few months, stay tuned to our page for further announcements.
However, some users made sure to point out that they're not waiting for the reimagined granddad of the Nokia brand, but the newer and fancier
Nokia 6
, alongside the rest of Nokia's smartphone brand. To this, the Finnish company had a different response.
@LuisHM1970@LuisHM1970 Hi, we're aiming to release worldwide in Q2 2017 (April - June). We can't be more specific than this.

— Nokia Mobile (@nokiamobile) May 5, 2017
What this means is that we'll be able to scratch our nostalgia itch pretty soon. If everything goes to plan, we'll be enjoying the new Nokia smartphones by the end of next month. Having an actual time frame in which to expect a global release, makes us even more excited. If you ask us, the Nokia smartphones can't arrive soon enough.