Samsung GALAXY Tab 8.9 Hands-on
10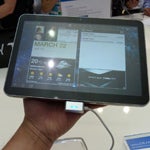 Samsung definitely has something to show for this year's CTIA 2011, despite not seeing anything new in the smartphone camp, but rather, they unveiled their latest GALAXY Tab member. Finding itself squarely in the middle, the 8.9"
Samsung GALAXY Tab 8.9
rounds out the selection as Samsung's tablet offerings will be able to accommodate just about every consumer out there. Naturally, it embodies most of the characteristics that are evident with their current line, but it still aims to provide a tailored tablet experience with Samsung's TouchWiz 4.0 interface on top of Honeycomb. Although seen as an unexpected gesture, Samsung concretely positions it to launch within the summer time frame (June 8, to be precise) – with the price tags of $469 for the 16GB model and $569 for the 32GB one.
After being somewhat taken by surprise by the
iPad 2
, there is no denying that Samsung is doing their best in making sure that their 8.9" Tab will be impressive on its own two feet thanks to its
8.6mm thickness
and 470 gr weight. Holding the tablet for the very first time, we're presented with a very plasticy constructed device that aids in making it rather light weight – however, there isn't the presence of premium in its feel. Still, it's appreciable since it's fairly easy to carry around and comfortably held in the hand. Conversely, it still doesn't quite necessarily come off as being all that attractive with its conventional looks.
We find a dedicated power button, volume rocker, and 3.5mm headset jack all lining on the top side of the tablet, while the power port is located on the other side. Since it flaunts stereo speakers, we find them clinging on both the left and right edges – which of course, should enhance the experience. There's a front-facing 2-megapixel camera, while the rear hosts a sufficient 3-megapixel auto-focus camera with LED flash.
Naturally, the most prominent thing about it all is the
8.9" WXGA (1280 x 800) capacitive touchscreen
that provides enough clarity to view even the smallest of text on-screen. As we set it to it the highest brightness level, we're not too flattered by its color output – which mainly looks washed out. Still, it's nice to see that it enables the tablet to be compact and light enough to carry around.
Interestingly, Samsung has been allowed to customize the
Android 3.0 interface
, and so it has equipped the tablet with a new version of the TouchWiz 4.0 (or TouchWiz UX) UI, but the unit on hand at the booth is still in production, so we wouldn't be jumping to conclusions about it just yet. Running the new interface on top of Android 3.0 Honeycomb, the Samsung GALAXY Tab 8.9 moves at a decent rate, but it doesn't quite have that silky smooth movement with its operation – then again, it's still a pre-production build. Focusing on the social networking conscious users out there, we find the Social Network Hub which fittingly aggregates content from your various accounts. Quickly looking it over, TouchWiz 4.0 is everything we'd expect it to be, but it doesn't seem to offer much more in terms of functionality over the core Android 3.0 experience.
So far, it's just great to know that Samsung is doing its best to offer solutions to a wide array of consumers, and of course, the Samsung GALAXY Tab 8.9" looks to complete their lineup.
Samsung Galaxy Tab 8.9 Hands-on video: