Samsung Galaxy Tab 10.1 Hands-on
18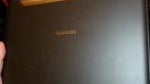 In an industry where outdoing the competition is prevalent everywhere you look, it really didn't take a rocket scientist to figure out that people were marveled by the engineering wonder found with the iPad 2's razor thin construction. Although they comfortably thought they were ahead of the curve when they unveiled the 10.1" Galaxy Tab last month, Samsung was somewhat blindsided when the iPad 2 was brought forth to the world. Fast forward to roughly over a month since MWC, Sammy has gone back to the drawing board and redesigned their tablet not to just meet the mark set by the iPad 2, but rather, to beat it and lay claim to one engineering wonder.
Enter the
totally redesigned Samsung Galaxy Tab 10.1" model
that's coming to market starting on
June 8th
for the price of $499 (16GB) and $599 (32GB). Literally a close shave thinner than the iPad 2 at
0.33" (8.6mm) thick
, the new model is a stark reminder of how much different it is than the model announced at MWC. Remarkably thin is what undoubtedly comes to mind, but its new design approach is much more impressive thanks to its solid construction and premium set of materials. The metallic chassis seemingly complements its industrial design, but it's nonetheless still wonderful considering that battery life isn't compromised – which is still rated for the same
10 hours of video playback
.
Granted that the unit was a prototype and not powered on, there is just this invisible aura that manages to capture the attention of people. Some of the other features include a 10.1" capacitive touchscreen with a resolution of 1280 x 800 pixels, 1GHz dual-core processor, 3-megapixel camera with LED flash in the back, 2-megpixel front-facing camera, the latest version of TouchWiz running on top of Android 3.0 Honeycomb, and HSPA+ support.
Taking into consideration its competitive pricing to match Apple's pride and joy, the totally redesigned 10.1" Samsung Galaxy Tab will have both pricing and killer design on its side. Of all things, the most impressive part about it all is just the
quick development time
seen out of Samsung's camp as they toiled night and day to get it ready and in time for CTIA 2011. Most products generally take a year to get redesigned, but with Samsung's presence in this emerging market, they're not going to be a slouch in keeping the bar high for other manufacturers out there.