Thieves dressed as employees are stealing iPhone handsets from New York City Apple Stores
29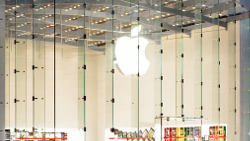 Criminals in New York have a new scheme. They dress up as Apple Store employees by wearing what passes for the official blue shirt worn by those who toil in the store. Once in disguise, the crooks make their way out of the retail location with a number of iPhone units. One Apple Store, located in Broadway on West 67th Street, was hit twice. The first time, a group of three including a woman dressed as an employee, made off with eight iPhones valued at more than $5300. That took place last February.
A month later, another trio went to the same store and this time, a male was disguised as an Apple Store employee. With this disguise, he was able to access a storage area by the Genius Bar and make off with 59
Apple iPhone 6s
units worth more than $44,000. Law enforcement officials believe that this particular store was targeted because it is used for training new employees, and it is normal to see an unfamiliar face dressed to work at the location.
On June 1st, another Apple Store in New York City (this time in Soho) was tricked by someone wearing a blue shirt with the Apple logo. The NYPD said that this time the caper was the work of two men. The phony employee walked into the repair room at the store at around 5:30pm. Opening a drawer, the man grabbed 19 iPhones valued at $16,130. He then handed them off to an accomplice who hid the handsets under his shirt, and the pair then exited the store.
Like the West 67th street store, the Soho operation is pretty large, making it easier to get away with a crime like this. The NYPD is still investigating the latest incident.
To see how easy it is to impersonate an Apple Store employee, check out this video of comedian Tyler Fischer who pretended to work at four Apple Stores before being removed from each location. Before he was ejected, he did manage to interact with customers and the dialogue is hilarious.
source:
NYPost
,
DNAinfo
via
Gizmodo