These are the phones we used and loved the most in 2019
21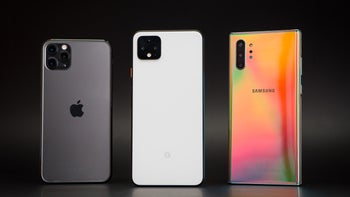 PhoneArena is one big entity of writers, editors, video team and a bunch of people around us and we do our best to maintain an independent, bias-free voice for our articles, but as individuals, each and every one of us makes their personal choices about what phones they use.
Each and every one of us has their own reasons, and we bet you'd be surprised by some of the devices that we use. But also, we hope you'd be intrigued to learn about our personal reasons behind the phone of choice for each author.
This is what this article is all about: getting to know us a little bit better, sharing more with you, our readers. These are our personal phones, the ones we actually used and loved the most throughout 2019, along with all the reasons why. We hope you enjoy reading this and we are looking forward to you sharing your favorites in the comments section.
With this in mind, let's get started with...
Alan: Google Pixel 2 XL
"I just feel that my Pixel 2 XL connects with me and it does everything I need it to do and more"
For about 16 months, I've been using the Google Pixel 2 XL. As with most Pixel users, it is all about favoring Android and the Google ecosystem over iOS and the Apple ecosystem. The only iPhone I ever bought was the original version not too long after it launched in the summer of 2007. After that, I had a horrible experience with the BlackBerry Storm before turning to the Motorola DROID. From that point on, I stuck to Android except for a brief period of time when I had to use an iPhone 5 to briefly replace another handset that stopped working.
Anyone who buys a Pixel isn't doing so for the design, although I don't dislike the looks of the Pixel 2 XL. And the Google ecosystem, in my opinion, is superior to Apple's because of Google Assistant. Knowing that Assistant can quickly find me the right information, or quickly handle tasks gives me confidence that Siri just cannot provide. For example, the other day I was playing around with an iPhone and asked Siri a simple question. "What year was the original Apple iPhone launched," I asked. I was stunned when Siri responded "2004." Assistant replied to the same question by giving the exact, correct date of June 29th, 2007. A fellow PhoneArena writer also got the same exact results from Siri. And sure, you can install Google Assistant on the iPhone, but it just isn't the same on iOS.
Another reason to love the Pixel is for the quick Android updates. Since the last Android Q beta update, I've been using Android 10 which puts me in a small minority of Android users. And Google always tries to add its latest features, first found on the latest and greatest Pixel units, to older models. Last year, Pixel 3's Night Sight came to the Pixel 2 XL and this year my phone received the Astrophotography mode that came out of the box with the Pixel 4, and just the other day I loaded the Recorder app on my phone; this not only records and stores audio, it also offers real-time transcription.
I often think about giving the iPhone another shot and I'd be lying if I said that I wasn't impressed by the iPhone 11 Pro Max. Besides the zippy A13 Bionic SoC, I like how Apple enhanced the water resistance, improved the battery life, made the device sturdier and took the camera up a notch. For the first time, I felt that Apple was really reaching out to the fans with the improvements it made this year. But then I think about Siri vs. Google Assistant and personally, I just don't find Siri to be as helpful as Google Assistant.
Everyone has different reasons for choosing the phone they buy. I just feel that my Pixel 2 XL connects with me and it does everything I need it to do and more.
Adrian: Moto G7 Power
"Would I be willing to pay twice, thrice, four times what I paid for the G7 Power just to get a better camera? Not really."
This may sound weird coming from someone that earns his living writing and often obsessing about the latest and greatest smartphones, but in my day-to-day life, I'm not what you'd call a power user.
I don't play a lot of games, I hate watching movies on a tiny screen (meaning anything smaller than my 21-inch iMac or 32-inch Samsung Smart TV), and I never, ever do any real work on my mobile device. Oh, and I'm also cheap and forgetful, so when the time came earlier this year to ditch the Xiaomi Mi A1 I bought a couple of years ago for its low price and Android One experience, there were only a few options I could seriously consider.
Ultimately, I settled on the Moto G7 Power and couldn't be happier with my decision. This beast gives me at least three days of juice before I even need to consider plugging it in, bringing back sweet memories of my first Nokia "dumb" phone that kept up with those interminable Snake-playing sessions from many years ago.
Would I like to be able to take a clear picture of my always restless 3-year-old on the first, second, or at least third try? Absolutely. Would I be willing to pay twice, thrice, four times what I paid for the G7 Power just to get a better camera? Not when everything else about this thing, processing power, screen resolution, memory, and storage included, is perfectly adequate, meeting and even exceeding my initial expectations.
Cosmin: Samsung Galaxy S10+
"Phones are meant to be changed"
I consider myself a loyal person, so when Samsung launched the Galaxy S10 series, I made a promise to my alter ego that I'll be using the first phone that lands into my regular-sized hands for the whole year. As it happens, the standard Galaxy S10 was the first flagship of 2019 that I got to try, so I decided it should be my main driver for the rest of the year.
And then the Galaxy S10+ and now I no longer consider myself a loyal person. I realize that phones are meant to be changed because they become obsolete after a while, but if I wouldn't mind if I could keep the S10+ forever. Now if I could just find some bottled youth to keep my Galaxy S10+ fresh, that would be rad.
In all seriousness, I find the Galaxy S10+ the perfect phone for me. I believe Samsung managed to find that state of equilibrium where tech and style cancel each other out to offer consumers the best of both worlds without excessively outlining either of them.
Daniel: Huawei Mate 30 Pro
"Тhe forbidden fruit Mate 30 Pro has a certain rebel feel to it that gets you back to modding and working for it"
With the best battery life, night-scene shots and dark interface mode of any current phone, the forbidden fruit Mate 30 Pro has a certain rebel feel to it that gets you back to modding and working for it.
First, the battery life. While others are promising two-day battery life phones, the Mate 30 Pro actually delivers. It's the first high-end phone I've used that consistently delivers more than 48 hours of usage with 8-10 hours of screen on time.
Unlike its Korean and Japanese counterparts, this phone maker is wise enough not to shoot for ultrahigh screen resolutions, and that, combined with a huge 4500mAh battery, good background app management, and ubiquitous interface dark mode, delivers the best battery life on a flagship.
When I say ubiquitous dark mode, I mean it. Not only the home, notification bar and settings are pitch black and contrasty, but the interface renders all default apps like Health on a dark background as well, making the phone a joy to use at night, with only Chrome (nudge, wink, Google) sticking out like a sore white thumb, forcing me to switch to a browser with dark mode.
The camera set was hit or miss in the beginning, especially for nighttime video, but a few huge updates later, it is pretty good, and the video capture situation improved drastically. Thanks to the RYYB sensor pixels array, the phone is unsurpassed when it comes to low-light shots, if you are a fan of turning night into day, while the camera does well in most other situations.
The premium build and centered camera plateau keep things aesthetically pleasing to look at and handle, too. The beautiful waterfall display is both a blessing when using the back swipe gesture, and a curse when some edge interface elements interact with the accidental touch prevention.
All in all, if battery life and low-light shots are important to you, the Mate 30 Pro is a fine bet if you don't mind some tinkering (yes, you have to use an older app version in order for Netflix to work, sad).
Eugene: LG G8 ThinQ
"A phone free of compromises at a great price"
This year, I had the opportunity to use a number of great devices, including the iPhone 11 and the Pixel 4, but my personal favorite for the year is the LG G8 ThinQ. Poor LG's released a really solid flagship, and it's gone to be the most underrated phone of the year.
The G8 has everything you'd expect from a 2019 flagship, like a Snapdragon 855 chipset, a vibrant OLED display, a decent dual-camera setup, and (unfortunately) a notch. So you've got basically everything covered from a spec perspective.
But beyond that, it's got a couple aces up its sleeve that give it an edge over other phones. It's the only flagship to rock both 3D face unlock and a fingerprint sensor. It's got a headphone jack (!!), plus the Quad DAC for high-fidelity audio playback, something I really miss when I use other phones.
LG's software isn't the best, but it's gotten much sleeker over the years, and this year's version is reasonable clean and easy-to-use, with a playful, vibrant aesthetic. If you can live without the Pixel 4's killer cameras, or the Galaxy S10's hole-punch display, I'd say the G8 is a phone free of compromises- especially at the price point it's offered at now.
Ivan: Google Pixel 3a
"No bloatware, worry-free phone with a great camera"
I've been using the Google Pixel 3a for the second half of the year and it replaced my trusty old OnePlus 6. While I did love the OnePlus 6, I find the Pixel 3a suits me even better: it is lighter and more compact than the OnePlus, so it's much easier to carry in your pocket during longer walks, it captures outstanding photos which I have come to appreciate more and more, it gets the latest updates faster than many other Android flagships and not least, it has no bloatware.
It's not the perfect phone by any means: I find battery life to be just okay, but not great, the fingerprint reader also does not always register from the very first attempt as it should and I do miss that mute switch from the OnePlus 6. Still, I am quite happy with my Pixel 3a and would gladly recommend it to others too.
Florin: Moto G7 Plus
"0 to 100% charge in just 45 minutes. Beat that, $1000 phones!"
Since I'm a long-time user of Google phones, some months back, I was looking forward to buying the (then unreleased) Google Pixel 4. But I haven't done so because I stumbled upon a great deal - I found a Motorola Moto G7 Plus offered for the equivalent of just around $200 (in Europe). I knew that this phone was good even for its regular price of around $300, so I bought it.

I am currently using the Moto G7 Plus as my daily driver and I'm a bit amazed at how good it is - that is, for a $200 phone. This handset looks nice, feels good in hand, and performs well in pretty much any scenario. Granted, the cameras on the G7 Plus are nothing spectacular, but still quite good for a non-high-end phone. When I use manual mode (including RAW), I can actually take some impressive photos.

Battery life on the Moto G7 Plus could be better. On the bright side, the phone came with a Moto TurboCharger in the box, and this thing charges like crazy, going from 0% to 100% in about 45 minutes. In real life, since I almost never let the battery go down to 0%, or even under 10%, my phone usually needs half an hour or so to be fully charged. Beat that, Pixel 4!

I still plan to purchase a Google Pixel 4 at some point, because it is an impressive piece of tech - at least when it comes to photography. Until that happens, I think I'll consider the Moto G7 Plus to be a nearly perfect mobile companion.


Georgi: OnePlus 5T
"Newer phones seem to be moving further away from perfection rather than towards it"
Aside from the month I spent using the iPhone XS and a few weeks here and there testing other phones, I've been using the OnePlus 5T as my daily driver. For my needs, the 5T has been as close to a perfect phone as possible and unfortunately, newer phones seem to be moving further away from perfection rather than towards it.
Here's what I like about it:
The display
. A big screen that's not too tall, doesn't have any notches or holes, doesn't have any curved edges or rounded corners. In 2019 it's pretty hard to find a phone that has just a boring rectangular as a screen.
The LED light
. Different colors for different apps and even some dedicated to specific people mean that with one glance I have a pretty good idea what I'm about to find when I unlock my phone. I still don't understand why something so small but so useful is removed from smartphones.
The headphone jack
. Yes, I use it regularly.
The slim and durable body
. Sure, having a large battery is nice, but with its slim profile and metal back, the OnePlus 5T feels good in the hands and is very durable.
The software
. Despite being a 2017 phone, I don't have any complaints about the performance of the 5T. It's snappy, bloatware-free and will even receive Android 10 next year.
The fast charging
. That's nothing unique to the 5T, of course, but its fast charging has saved me from dealing with battery anxiety more than once and I've started to greatly appreciate this smartphone feature.
And here are some things I'm not happy about having to deal with.
The selfie camera
. Yes, the main camera is also not something to rave about, which is why it's not on the list above, but my gripe is with the selfie camera. Even though I'm not a big selfie taker, when I do have to use it, I always end up taking a few shots because they don't come out great.
The vibrations
. The vibration motor of the 5T is too weak, often causing me to miss notifications when I'm on the go. Additionally, the haptic feedback feels crude and tinny. The sensation is hard to explain with words but it's something that you do notice in a bad way when you compare it against newer phone with better haptics.
The battery life
. This has only recently become an issue for me and it's like due to the age and use this phone has seen. The diminishing battery life is likely the reason I'll be switching phones soon and I'm not happy about it.
Joshua: Huawei P30 Pro
"In many regards, the Huawei P30 Pro provides what several 2020 flagships are going to bring to the table"
The past twelve months have been pretty great for smartphones across all segments but the one that stands out to me is the Huawei P30 Pro.
Although I'm far from a professional photographer, I value smartphone cameras a lot because I enjoy taking photos of almost everything I see. The Huawei P30 Pro offers one of the most versatile photographic experiences out there, which is why I love it so much.
Its primary camera can shoot some amazing pictures during the day and, when the sensor's high megapixel count is combined with Huawei's software wizardry to enable Night Mode, this is also the case in low-light scenes. The smartphone's ultra-wide-angle shooter is also pretty decent and the accompanying Time-of-Flight sensor helps with portrait photos. My main highlight, however, is undoubtedly the zoom camera.
Most mainstream manufacturers have settled for the usual 2x telephoto camera on their devices this year but Huawei hit the ball out of the park with an amazing 5x optical zoom implementation. It allows you to get closer than ever to buildings or objects and the results really are amazing.
In many regards, the Huawei P30 Pro provides what several 2020 flagships are going to bring to the table – a high megapixel count, an impressive Night Mode, and 5x optical zoom – despite being released a year earlier.
These days, the second most important thing in a smartphone for me is probably battery life, which is another area where Huawei's phone excels. It easily lasts a full day on a single charge and can sometimes even be stretched to double that with light usage.
This is all backed up by an impressive 40W fast charging technology, wireless charging support, and reverse wireless charging. The latter has saved me a number of times by allowing me to charge up another device.
My final highlight has to be the phone's performance because, like many other premium phones, it just feels nice and snappy. This aspect of things recently received a boost with the arrival of Android 10 and its accompanying gesture-based navigation system.
Milen: Samsung Galaxy S10

When the first wave of Galaxy S10 and S10+ leaks hit us in late 2018, I thought that they wouldn't offer a meaningful upgrade over the previous models. Well, turns out I was wrong.

If you compare them in pictures, the S10 doesn't look all that different from the S9, but once you see it in the flesh, you realize just how much of the top and bottom bezels has been shaved off and how big of a difference this makes. Yeah, the hole-punch selfie camera may seem weird at first (it didn't to me), but it quickly blends in with the UI and disappears when you actually start using the phone. The main triple-camera setup has also proven itself—in my eyes, at least—as a versatile and useful addition.

These are some of the reasons why I chose the Galaxy S10 as my daily driver in 2019 since almost day one. And it might just last me a while longer, unless the Galaxy S11 is such a big upgrade that it wins me over!
Nick: Asus Zenfone 6
"A pleasant surprise"
Making a good $500 phone is a game of cutting the right corners – to meet both the set price point and the needs of the demographic you're aiming for. I think Asus did a good job with the ZenFone 6. I wouldn't call it my favorite, but it was one of the pleasant surprises among the phones I got to test in 2019.
It excels at being the product it is envisioned to be – not a phone for the masses, but one for enthusiasts who care about specs and big numbers. And while it's not the prettiest or flashiest phone of the year, it delivers excellent battery life and speed you'd expect out of phones costing twice as much.
Preslav: iPhone XS Max
"I am one of those people that love details like 3D Touch"
I've been stuck in 2018 and using the iPhone XS Max. The main reason is because I am not ready to let go of 3D Touch just yet. The A12 Bionic processor is still a beast and the cameras are still among the best. I am definitely missing out on the better battery life, which can be found in the iPhone 11 series as well as most Android flagships this year, but the XS Max can get me through the day just fine.
Is 3D Touch that amazing? If I have to be honest, I understand that it is not — long press (ahem I meant to say Haptic Touch) does the job just as well when it comes to UI navigation. But 3D Touch still feels a bit better and it has some unique uses in games (namely FPS games), which make the experience better.
I do also have a favorite on the Android side — I can't keep away from the Asus ROG Phone II. It's just insane — cutting-edge hardware, 120 Hz AMOLED screen, hardware triggers, and tons of accessories. Yeah, I am still a child, let me be with my games!
Peter: OnePlus 7 Pro
"Addicted to the speed and the great price"
My favorite phone of 2019? That'd be the OnePlus 7 Pro.
Granted, I admit it has some caveats. The curved display is slowly getting on my nerves. The battery life isn't great. The fingerprint scanner is prone to errors. The image quality of the camera is, let's be honest, not great. But there's something great about the whole marriage between the stock-ish Android and the display with the high refresh rate that makes me want to use it more and more.
That and the great price tag make this one the 2019 phone I've used the most this year. Honestly, aside from a short elope with the iPhone 11 Pro Max (which is probably the best device released in 2019), I've exclusively spent a large chunk of the year with the OnePlus 7 Pro in my pocket.
Rado: iPhone XS
"Last year's compact iPhone is the perfect size"
So, for the better part of 2019, I've been using a white iPhone XR, but the massive size and slight pleb vibe ultimately pushed me to change it for an iPhone XS in gold.
The difference is subtle, but profound. I find the size of the 5.8" XS decidedly more convenient and mainstream, while the screen is still more than large enough for all my needs, including reading ebooks (stealth brag). Also, the polished steel frame looks more expensive and classy than the matte aluminum of the XR / 11.
I will not be upgrading to the iPhone 11 Pro, because: 1) I don't like the feel of the slippery matte glass Apple decided to use on that model (I don't use a case); and 2) The XS is so powerful it can easily last for at least a couple of years from now, without any compromise in the experience (bar the slightly shorter battery life).
Vic: OnePlus 7T / OnePlus 5
"When it comes to actual performance, OnePlus is unsurpassed"
You will honestly be so let down to hear about my most used phone of 2019, but when switching between so many devices you need to have a backup phone at all times and my backup phone was actually my most used one this year. That phone is the good old OnePlus 5. Launched two and a half years ago, it obviously doesn't compare to the fancy flagships of late 2019. Its camera is probably the one component that's aged the worst, but the reason this phone remains on me at all times is just how well designed this phone is, it's thin and lightweight, and you almost forget it's in your pocket, it's also superb in terms of overall speed of the interface, the fingerprint scanner is fast and reliable, and the battery life is still holding up well after more than two years.

And if you ask about a 2019 favorite, my go-to would be the OnePlus 7T. While I really, really wish OnePlus finally figured out a way to make a great camera (the 7T is not quite it), when it comes to the actual performance of a phone, this one is unsurpassed. It's lightning fast and smooth, it has a beautiful screen, it's a joy to type on, it has great haptics, a dedicated mute switch, and it has good battery life. Last but not least, this phone is sized right for me, meaning that it is not freaking gigantic (that's the reason why I wouldn't go with the 7T Pro, that one is just too huge). At $600, the OnePlus 7T is also great value for the money and won't burn a giant hole in your purse like others.