These 5 apps are in the top 20 charts for both iOS and Android
6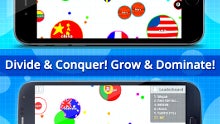 Apple's App Store
recently passed the 1.5 million apps mark
, moving hot on the heels of the Google Play store's 1.6 million. The rest are yet to make a mark, as the third place is occupied by the Amazon Appstore with about 400,000 apps, the Windows Store with 340,000, and BlackBerry World with just 130,000.
In any case, the tastes and preferences of people who use Androids, and people who use iPhones and iPads, differ quite a bit, as a simple glimpse at the top 10 or top 20 in both the free and paid app categories there can attest.
Nevertheless, there are some apps that seem to be both old, like the paid
Minecraft
, and new, like the free
Agar.io
, favorites, to both clans. Here are five of the most popular apps in the App Store and Google Play that exist in the top 20 rankings of both, asserting their appeal to the widest possible audience. As you can see, the only app that is not a chat tool or a social network of sorts, is the latest game craze - Agar.io, the dot-gobbler.