There's a fiery "Velvet Red" color version of the Galaxy Note 4, good luck getting it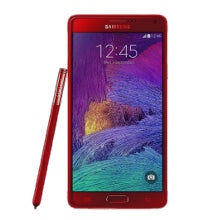 At the moment, the
Galaxy Note 4
powerhouse is available in four different color versions - these are "Charcoal Black", "Frost White", "Blossom Pink", and "Bronze Gold". You
already told us that the black variation of the phablet is your favorite
, though by a relatively small margin, with the white and gold versions trailing behind, and naturally, the pink color option at the bottom of the list.
Well, those still waiting for an additional color option can now rest at long last. If you have been devoted backer of the "red ones go faster" proverb, then you'd be happy to know that there's a special fiery red version of Samsung's power-laden phablet, just in time for the Winter Holidays. Dubbed "Velvet Red", this color option is unfortunately a South Korea-only deal - it's exclusive to those local residents willing to get a brand new Galaxy Note 4 from SK Telecom, one of the larger South Korean carriers. It seems that the latter also offers exclusive red versions of the
Galaxy S5 LTE-A
and the
Galaxy W
.
As usual with such region-exclusive handset editions, there's no word if a similar red version of the Galaxy Note 4 will eventually become globally available for all potential adopters of the S Pen-knight. Odds are that it will hardly land in other country except for South Korea, but a man can dream, right?