The vast majority of us still use our smartphones while driving (poll results)
10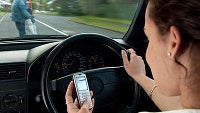 You'll have to have lived under a rock to not have gotten the message across by now. Texting while driving is dangerous. Checking your Facebook while driving is dangerous. Placing calls while driving is dangerous. Pretty much anything that includes a smartphone and a person behind the wheel is a no-no, at least if safety is a concern of yours. Which, of course, it is, only most of us assume that we're the exception and what's the big deal if I just checked that last notification?
Yesterday
, we asked you to be honest and admit to using your smartphone while driving, just as we know you do. Some 1,300 of you took our call, and the results of that particular survey are now in. According to the split, over 80% of participants admitted to using their phones while driving, but with different frequency. The biggest group (~30%) say they only use their phone every now and then when behind the wheel, followed by 20% of users saying they do it fairly often, and 9% that (begrudgingly, hopefully) confess they do it all the time. 24% claim they almost never do it, which is still not great. On the other end of the spectrum, we have 18% worth of voters swearing they absolutely never do it. If true, that's commendable, but doesn't really help with all the rest who'll surely end up on Santa's naughty list this year.
Us humans aren't very good with numbers at all, so we tend to underestimate the dangers when we're presented with confusing statistics. So we do stupid things like using our smartphones when driving, irrespective of the known dangers involved. We're also hopeless optimists, so we tend to think that even if something does occur in real life, we're almost surely going to be fine. Until we're not. This probably came across as judgy-judgy, but think about what you'd be missing out on if something were to happen next time a meaningless notification comes through. Is it worth the risk just so you know right away that your granny liked your latest cat video post on Facebook?