Honestly now: Do you use your phone while driving?
52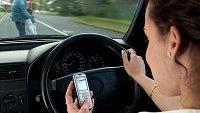 When it comes to hard data on distracted driving, it's not difficult to draw a conclusion. Many studies show that playing with your phone while behind the wheel increases the odds of an accident occurring, and so most countries the world over have enacted laws making the usage of mobiles illegal when driving. Of course, actually catching people in the act often enough for the point to get across is pretty hard.
So, many of us do it anyway. Despite knowing — even having experienced the effects firsthand — that checking out that last notification puts us at danger, we still reach for our pockets. And depending on what we do from that point on, that danger can be either relatively small, or quite serious, with research indicating that texting is among the most distracting activities, followed by reading messages from others. Yet, we do it.
Do
you
do it? Be honest now, the poll is anonymous and it's not like anyone is going to serve you a virtual ticket, so there's no reason to lie, especially since the poll options are intended to cover a broad spectrum of cases. So go ahead and lay it on us:
Recommended Stories