The users: Nokia will be better off with Android
99+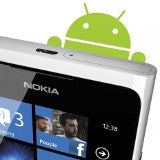 Last week was a great one for Nokia as the company announced that it's become
profitable again
, at least for the period of Q4 2012. Naturally, this makes us think that the company has a chance of stabilizing with Windows Phone as its main mobile operating system. However, even after the good news, most users seem to have remained firmly convinced that the Finns will be better off if they switch to Android, like... right now!
This became clear after we ran our poll asking you "
Should Nokia switch to Android?
". According to the results, the majority of you, which is 59.83% (3631 votes), think that Windows Phone will never be as successful as Android, and so Nokia should make a smart choice and side with the best. However, 35.28% (2141 votes) of you are of the opposite opinion, reasoning that as things have just started to get better for Nokia and Windows Phone, there is no point in abandoning ship now.
In our poll we also included a third possible answer, just for the fun of it, which read: "I don't know, maybe they should just license Open WebOS..." Not many of our readers seemed to like the idea, though, so that option was chosen by only 4.89% (297 votes). If one thing is certain in this world, it's that most users wouldn't like Nokia to adopt WebOS.
Whether Nokia will eventually decide to open the door for Android remains unknown. For now, the future of the company seems to be bound to Microsoft and Windows Phone. Let's hope it's for the better!