The power of the 1% over mobile devices (expandable memory and removable batteries)
99+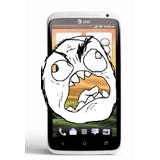 If there is anything that we try to do consistently, it is to point out that personal opinion does not equal one side of a right/wrong argument. There is a growing trend of manufacturers not including SD card slots or removable batteries in new devices, and there are quite a few people in our community who are taking this trend personally. We simply want to remind you that this isn't personal, it's business. And, the sad truth is that while we here in our tech elite community may have the most passion and a loud voice considering our size,
we are effectively the 1% in this equation
. We are the power users, and the ones that follow this world every day, but we are the vast minority in the system. Unfortunately, the people with the most clout are the 99% that buy mobile devices to take pictures, browse Facebook or Twitter, or maybe play some Angry Birds or Draw Something. The casual users will get what they want (or what manufacturers think they want) because their sheer numbers translates into big dollars.
This is a tough pill to swallow, but swallow it we must. Yes, we have a huge amount of influence that manufacturers still don't fully understand. We are often the ones that friends and family come to for advice on what to buy, and for help when they don't understand something, or if something breaks. But, we don't control how our friends and family use their devices. You can go on all night about the benefits of a removable battery or expandable memory, or why Angry Birds is actually a boring game compared to something like 9mm, Machinarium, or GTA III. But, if a casual user can get by without those things, they will. If casual games make more money (which they do), that will make up a big part of the market. And, if casual users don't really need certain features, manufacturers won't keep building them in on all devices.
pointed this out before
in regards to how some seem to think that Apple's popularity is going to kill everything that isn't an Apple-clone, which is not only false, but is the complete opposite of what we've seen in the rise of Android.
We
ran a poll
a few days ago about the supposed "trend" of high end devices being released without expandable memory slots, and the vast majority of you came down in support of expandable memory slots. Almost 70% of you said that you would preferred (or would only buy) devices with expandable memory, either because you need the storage space, or you don't trust the cloud. We think this is a backwards way to look at the issue. The cloud is the future, there isn't really much we can do to stop that, but we need to learn when and where our influence counts the most.
As we pointed out, casual users are wielding more and more power over the smartphone market, but that is because the smartphone market has matured to the point where popular opinion matters quite a lot. As power users, tech elite, early adopters, and generally passionate fans of technology, we have more power on burgeoning technologies. We are the reason Android developed the way it did, and why removable batteries and expandable memory won't ever be completely eradicated from the ecosystem. Similarly, we can help shape how the cloud works, because we are the ones to get in early and dictate trends. This is a phenomenon we see all over, but in which we never quite accept our role. Even though Twitter is one of the best sources for real-time news, it still has a reputation for being a place where people do nothing but talk about mundane things. Android has a reputation of not being very user-friendly, despite the strides made both by Google and by various manufacturer UIs to fix those issues.
Not using the cloud in favor of expandable memory will do nothing except remove you as a voice that companies hear about how the cloud should work. It's the same idea as expecting that you can effect political change by not voting.
Expandable memory and removable batteries
Way back in November of last year, we talked about expandable memory and specifically why
Google was trying to lessen its prevalence
in the Android ecosystem. The essential idea is as follows: SD cards were a stop-gap measure to allow Android phones to be made cheaper at first. Once Android gained traction in the market, SD cards were more of a problem than an answer, and larger internal storage was a better option. Also, Google wanted to push its cloud services, just like all other companies. The same remains true today.
With the expansion of internal storage in smartphones, the only reason for an SD card would be if you want to carry huge amounts of media with you at all times, and the number of people who want to do this and don't want to use the cloud are fewer and fewer. There are very few reasons why you would ever need more than a few hours of video on a mobile device, and internal storage can handle that. For music and photos, internal storage is large enough to handle thousands of each. The idea that you have to have your entire music collection physically on your device at all times has become an incredibly low priority option. We can fully understand not wanting to store personal data in the cloud for privacy reasons, but what is the harm in storing your music in the cloud? It frees up quite a large amount of space on your device, and it doesn't preclude the option of a local backup if you're worried about losing your data.
Similarly, removable batteries are less and less necessary. As we've learned, not having to build in the mechanisms to allow for a removable battery means that you can fit a larger battery in a device. And, this is where HTC has failed with the HTC One series. Taking away the option for a removable battery means you need to offer something to users in return, but HTC has stuck with a fairly average 1800 mAh battery in the One X. Of course, this failure doesn't mean that the idea is wrong, just poorly executed.
Only the most hardcore of power users really need a removable battery. Sure, it can be nice to be able to just swap out a battery when needed, but most people don't want to have to deal with multiple batteries and remembering to charge both. Extra batteries are also an expense that many don't want to pay. An extra battery alone can be anywhere from $50 to $100, and a dock to be able to easily charge both at once will run you an extra $20 or more. On the other side of the equation, your phone comes with a charging cable, and most people are rarely that far from a socket or USB port. And, few people are on the move so much that they can't plug in their device while doing other tasks.
Beyond that, we're also learning that leaving your device on a charger all night after the battery has hit 100% can be quite bad for the
lifetime health of your battery
. The extra heat from being left on a charger after the battery is full can cause irreparable damage to your battery, and depending on how hot the battery gets, you could lose more than 35% of your battery's capacity over the course of a year. So, it may be better overall to charge your phone more frequently, but not to full capacity each time.
Expandable memory, removable batteries, hardcore games, and everything else that we love aren't going anywhere. They may not always be the most popular option in the market, but that's because the users who want/demand those things are not the majority. Not even close. We in the tech elite get in early and we get to shape the early days of a new technology the way we like, but eventually everything becomes pop. And, once something moves into the realm of pop culture, we lose the control we once had, because the majority generates far more money than we do.
Still, just because the popular majority takes over doesn't mean that our favorite options disappear completely. There will still be plenty of devices available with removable batteries and expandable memory, but in the meantime, we should get ready to shift at least some of our data to the cloud, whether we want to or not. Not all data is created equal, so not all data needs the same amount of protection. For personal data, we need to be vocal with companies to make sure cloud storage options are secure and have easy ways to get out the data we put in. But, for everything else, the cloud is the future and we can't fight the future.