Your iPad battery may last longer if you don't charge it fully
14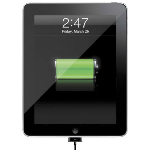 A few days ago, the news came out that the new iPad battery doesn't actually reach a full charge until about an hour after the battery meter reads 100%, and we said that it might be a good idea to leave your iPad on the charger the extra time to make sure you get your full amount of juice. But, that may not actually be the best idea.
Given that we've seen data saying the new iPad has a
temperature of around 86F
(30C) when charging, the difference between charging the battery fully and to just 60% is pretty substantial at that temperature. If you keep the battery around a 40% charge, your battery will only degrade 4% over the span of a year, but if you fully charge your battery, you could lose as much as 20% in the same period.
It's possible that Apple factored in all of this and has set the battery meter to give a false reading in order to provide longer battery lifetimes, but there's no way to confirm that. Either way, maybe it isn't good to leave your iPad charging too long.