The power of ten: 5 upcoming deca-core phones
28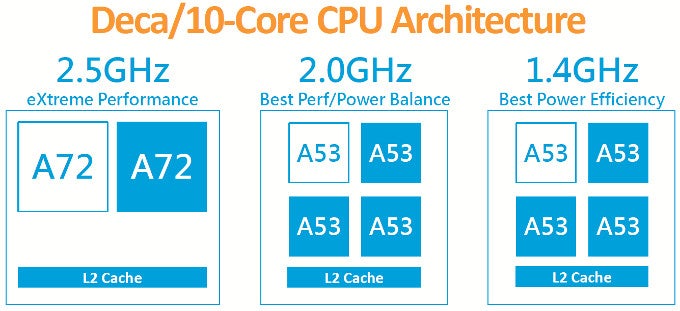 MediaTek recently introduced its newest warrior in the fight against Qualcomm's domination, the
Helio X20
chipset, raising the stakes in the multi-core fight to the ten. Ten cores, that is, as that's precisely how many of those processing hearts will be in Helio X20.
The unique processor has a pretty clever power distribution, as you can see in the architecture schematics above, with two mighty Cortex-A72 core, four Cortex-A53 for everyday computing, clocked at 2 GHz, and four A53s again, but clocked at mere 1.4 GHz for efficiency in continuous tasks like standby.
That many cores may sound like a marketing gimmick, but a recent Anandtech experiment with Android performance in everyday usage showed that
the number of cores really matters in a few common scenarios
. Chief among those is browsing, where rendering and tab management can take advantage of as many cores as you have, so the more the merrier, as well as during app installation.
The study praised specifically multi-cluster designs, like the one on the Helio X20, so we can't wait to put the new deca-core chipset through its paces once it lands in retail handsets. This moment is not far off, it seems, as there are already a few phones said to carry it, and we are rounding them up below.
Meizu MX6
Meizu is prepping to release its top-shelf MX6 phone, introducing it with the Helio X20 chipset, while most of the other specs will be inherited from the current
Pro 5
. Meizu already has a Helio X10-laden phone, the
MX5
, so it's not a stretch to guess that the MX6 may have a sweet deca-core chipset inside.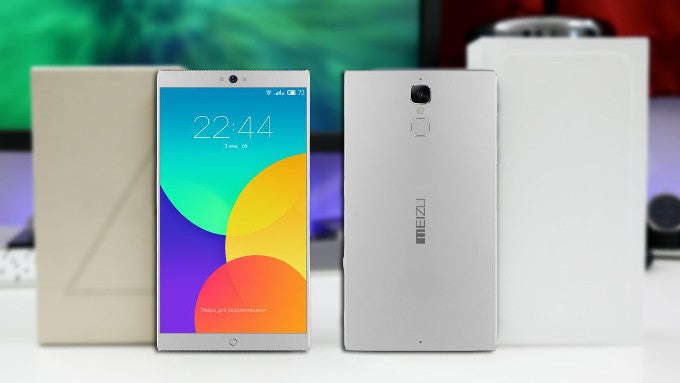 A version of the upcoming One A9 handset by HTC was
shown to run the deca-core X20 on Geekbench
, with some pretty impressive results to show for it. Still, the One A9 also leaked with a Snapdragon on board, so we'll have to wait for October 20th, and see what this metal-clad upper-midranger has to show.
The intriguing Oukitel U6 slipped from the rumor mill with a 5" panel, and a second 4.7" e-ink one on the back, like on the
YotaPhone 2
. Besides the funky dual-screen setup, Oukitel U6 is also said to employ MediaTek's upcoming 10-core Helio X20 chipset, too.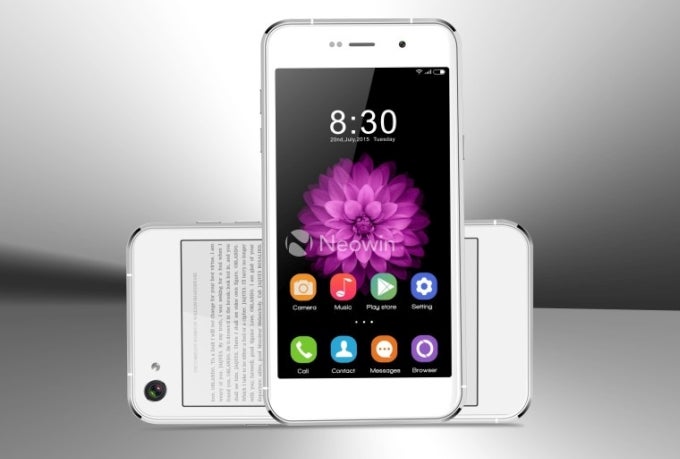 According to the e-tailer site where the phone was listed for preorder, the Elephone 9000 is equipped with a 5.5" 1080p display, and, just as rumored, a MediaTek MT6797 under the hood, which denotes a deca-core 2.0 GHz Helio X20 chipset. The rest of the specs are nothing to sniff at, too - a 4GB of LPDDR4 RAM, along with 32GB of internal storage. The camera combo from back to front weighs in at 16MP/13MP, and a fingerprint sensor is on board. A 3100mAh battery powers the phone, and the Elephone 9000 will apparently be a dual SIM phone, surprise, surprise.
The Xiaomi Mi Note 2 is expected to be the sequel to the Xiaomi Mi Note, with a 5.7" Quad HD display, and a MediaTek Helio X20 chipset inside for a good measure. The Mi Note was announced in January, so we might not see the Mi Note 2 released until Q1 next year.