Think multi-core chipsets are a gimmick? Real-life Android study proves all cores matter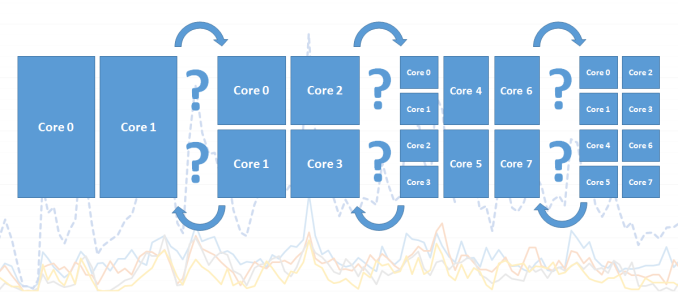 Why have octa-core and even deca-core mobile chipsets if there are barely any apps out there that can take advantage of multithreading with more than two to four processes at once - that's been the conventional logic so far, right? Well, the geeky bunch from Anandtech set on a massive crusade to settle once and for all the multi-core performance debate for everyday scenarios you do with your Android phone.
They picked a few common tasks, like opening Hangouts and writing a message, rendering a website, running the camera, installing apps from the Play Store, playing games, and so on. The goal was to determine if and where multi-core matters, and if it matters more in big.LITTLE configs, like the one on many octa-core chipsets at the moments, that combine powerful but battery-hungry Cortex-A57 cores with humbler, but frugal A-53s for the more mundane tasks. They also threw in other designs, like MediaTek's
Helio X10
, which combines eight lowly
A53s
in the so-called symmetric design.
Their analysis is a thorough 16-pager, full of jargon and graphs for each usage scenario, but long story short - the more cores, the merrier, if load distribution and power management are done right. A cluster of four cores was more efficient than one with two, two separate clusters with small and big cores fared better than one heterogenous cluster, and so on. While most usage scenarios showed that four cores is the optimal variant at the moment for Android's multithreading universe, there were certain scenarios where all eight cores made a difference, such as website rendering and app installation. Given how often we use the browsers on our handsets, it's reassuring to know that octa-core setups aren't just a marketing gimmick, but there's actual use for them in real-life scenarios. The key conclusion?
In the end what we should take away from this analysis is that Android devices can make much better use of multi-threading than initially expected. There's very solid evidence that not only are 4.4 big.LITTLE designs validated, but we also find practical benefits of using 8-core "little" designs over similar single-cluster 4-core SoCs.