YotaPhone 2 gets huge update with Android 5.0 Lollipop, new e-ink screen features, white color and slashed price
18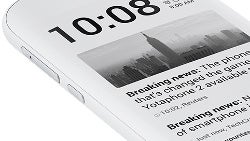 The YotaPhone 2 is one of the few phones that differ from the crowd: a curious tech creation with a screen on both its front and back, the YotaPhone relies on e-ink technology for its rear display to get a much better battery life.
The secret sauce of the YotaPhone is in the combination of its YETI (Yota E-Ink Technology Integration) software that runs on top of Android with the rear e-ink display, and now - as the phone starts receiving Android 5.0 Lollipop - it will get updated to support Facebook, Instagram and Twitter news feeds updating right on the rear screen, so you'd have even less need to start up the power-hungry front display.
Good news for the enthusiasts who like the idea of a phone with a secondary e-ink screen is that the YotaPhone 2 will be coming to the United States in July 2015 via ways of IndieGogo. The crowdfunding website will make the YotaPhone 2 available to US buyers, and we expect the price to be around that of an unsubsidized regular flagship ($650 to $700).
Speaking of price, the YotaPhone 2 price in the UK and Europe is now slashed: the phone drops to £440 in the UK, down from an initial price of £555, while for the rest of Europe the price is now €599, down from €699.
To freshen up your mind on the YotaPhone 2 specs, it features a 5-inch main AMOLED display with a resolution of 1080 x 1920 pixels and a 4.7-inch secondary e-ink screen with a resolution of 540 x 960 pixels. It packs the Qualcomm Snapdragon 800 system chip with 2GB of RAM, and comes with 32GB of internal storage. The 8-megapixel camera on its back is said to be merely average, but the company promises improvements with this latest Android 5.0 Lollipop update that is rolling out now.