The perfect iPad Air clone has arrived: this tablet dual-boots Android and Windows 8.1, has 3G connectivity, aluminum unibody, and $200 price
69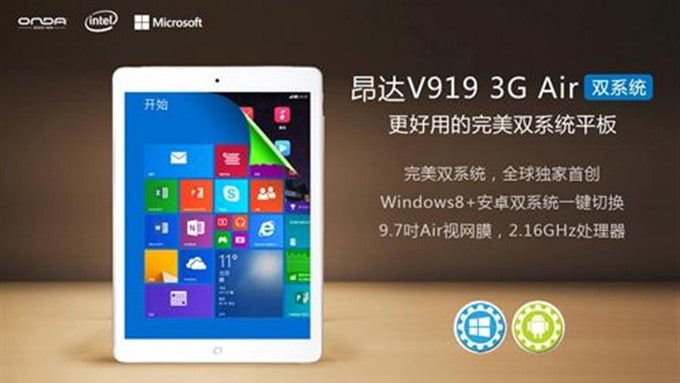 The Apple iPad Air 2 has set the gold standard for tablet design and functionality, but with so much competition from all sides, it's only logical to expect a similarly great alternative. Or at least, a clone.
The Onda V919 3G Air is exactly that - an unoriginal copy of the iPad Air and unsurprisingly it's coming from China. What's more shocking, though, is that it is a well made tablet with an amazing value for the money.
While you'd need to shell out $500 for a basic, 16GB iPad Air 2 with no cellular data connectivity, the Onda V919 3G Air costs $193, offers 64GB of internal storage, and features 3G cellular data connectivity.
Capable of dual-booting Android 4.4 KitKat and Windows 8.1
Most impressively, the Onda V919 is capable of dual-booting Android 4.4 KitKat and Windows 8.1, and you can switch between the two with the press of a button. This is made possible by some clever work down to the BIOS level, and results in an unprecedented freedom when it comes to the operating system.
For all else, the Onda V919 3G Air is an iPad Air 2 clone: it features an all aluminum unibody, a 9.7-inch 4:3 display with a resolution of 2048 x 1536 pixels, and overall very similar looks.
The big difference comes in the system chip that powers the whole show: the iPad Air 2 is powered by the tri-core Apple A8 system chip, while the Onda V919 3G Air features a 64-bit Intel Bay Trail-T Z3736F quad-core solution with clock speeds reaching up to 2.16GHz. The Bay Trail chip is a great option delivering solid single-core performance, and it comes with 2GB of RAM, a reasonable amount that allows some flexibility with multitasking.
In case you're wondering about any storage concerns (the 64GB of internal storage here might look good on a single OS machine, but with dual boot a lot of that allowance is eaten up by the OSes), you also have the option to plug in up 128GB microSD cards.
Finally, the 3G connectivity supports WCDMA bands, and you can also place calls while surfing the web on this tablet. There's also a 5-megapixel main, rear camera, and a 2-megapixel front cam. Not bad for a tablet that costs less than $200, is it?
source:
PCPop
(
translated
)