The people have spoken: the Galaxy Note 4 grabs twice the user votes against the LG G3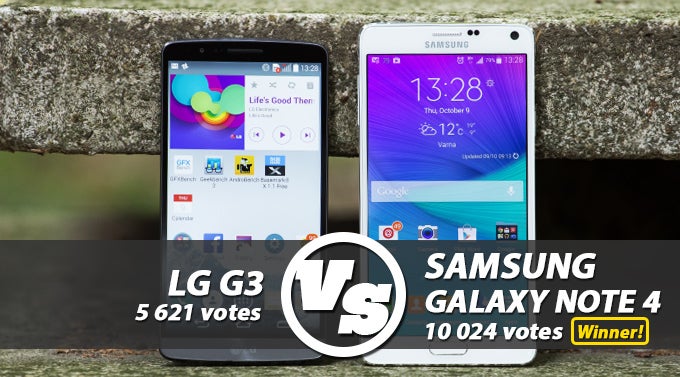 Introduction
At the end of last week, we decided to throw two of the hottest phablets out there – the Samsung
Galaxy Note 4
and LG G3 – in a skirmish, and have you, our avid readers, vote on each of them, based on four different categories. Anyone, willing to voice their opinion, was given an option to declare their favorite in the fields of Design, Display, User Experience, and Camera. Now, let's see how the fray went down, and trace the steps of the victor.
Design
Samsung really tried to pull off an extremely premium look with its Note 4 in an attempt to finally silence the naysayers, who often had gripes with Sammy's predominant use of plastic on its premium-class devices. However, just slapping a metal frame on a smartphone does not instantly make it look beautiful – designing a piece of technology to be desirable is an art of its own, and it seems that Samsung pulled it off, as the Note 4 took the larger amount of votes (2,583 votes, 56.74%) in this category. Still, the LG G3 (1969 votes, 43.26%) isn't far behind, probably thanks to its smaller bezels, a screen-to-body ratio that makes it look elegant, and a brushed metal finish that almost looks like the real deal.
Display
Both phones are somewhat of a pioneer in the display department – the Note line was, arguably, the one to start the "bigger screen" trend, some 3 years ago, and the Note 4 is the first Samsung phone to have its Super AMOLED display calibrated to show impressively accurate colors; in the meantime, the LG G3 was the first flagship to bear the super-dense QHD resolution.
The voice of the readers is clear in this category – the Note 4's better maximum and minimum brightness, infinite contrast, and accurate colors, together with the fact that it also sports a QHD resolution, leave the G3 no straws to grab onto. The Note 4 is a clear winner here with (2,888 votes, 74.68%) vs the G3's (979 votes, 25.32%).
LG and Sammy took two very different approaches, when it comes to user experience. While the G3's UI is based around a flat, clearly defined, and simplistic look, the Note 4's TouchWiz is brim-packed with features, animations, and customization options that can make a newcomer's head spin. It was a tough battle, but in the end, a slightly bigger part of the audience (1954 votes, 54.52%) decided that they prefer TouchWiz's abundance of features, than LG's simpler UI (1630 votes, 45.48%).
Camera
Samsung has been making great strides to improve the cameras on its flagships and the Note 4 makes no exception. The device's 16 MP main snapper that employs Sammy's proprietary ISOCELL tech, and is further improved with a mix of optical and digital image stabilization (dubbed Smart OIS), took the audience's heart over the G3's 13 MP laser auto-focus-equipped shooter, boosted by LG's own OIS+ tech. The clear winner in this category is the Note 4 (2,599 votes, 71.36%), with an openly dominant score over the G3 (1,043 votes, 28.64%).