The next LG Viewty to capture HD video
1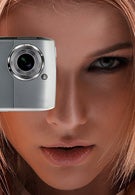 The fact that the
LG Viewty Smart
, which we have thoroughly
previewed
, is about to reach the general public doesn't mean the manufacturer will be sitting around in the months ahead. Electricpig informs that the company has actually hinted at some possible features of the next Viewty, including the possibility of HD video recording capabilities. Here is what Jeremy Newing, LG Mobile's head of marketing for the UK, has said about the number of megapixels:
"We're aware of a couple of 12 megapixel models, and we're not too far off, but we want to build on our value proposition," and "It's not too long before our larger megapixel products are announced, but this will fill a nice niche, rather than trying to get £40 to £50 out of each customer."
It seems LG's next camera phone might as well be a 12MP monster, following suit the
Sony Ericsson Satio
and the
Samsung Pixon12
.
When it comes to video capture, the official explained that the Viewty Smart does DVD quality video, but "other handsets in the range will take that to the next level." We hope to see the result of these promising statements soon enough!
source:
Electricpig