Samsung Pixon12 M8910 is a 12MP cameraphone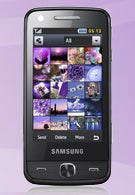 Satio
(previously known as the
Idou
), it is now Samsung´s turn to reveal their first
12-megapixel camera phone
. Prepare to meet the next-generation
Pixon
– the
Samsung Pixon12 M8910
. Aside from 12MP camera, photo maniacs will also enjoy a Xenon + Power LED flash and a rich number of camera features, with maybe the most notable being Touch Auto-Focus tracking. It allows you to focus on certain object by simply touching its image on the screen, the phone will do the rest. It is even going to automatically follow the object if it moves. The manufacturer promises about 2 second delay between shots, which sounds pretty nice indeed and reminds us of the first Pixon – a real speedster for its time. Photo sharing cannot get more easier with the Pixon12. You will be able to upload your images to social networks like Facebook, MySpace, Picasa, Flickr, Photobucket and Friendster. The phone will also come with additional camera extras such as Smart Auto, Beauty Shot and Vintage Shot.
Come to specifications, the Samsung Pixon12 M8910 will boast a
3.1
-inch AMOLED touch-sensitive screen with 10,000:1 to one contrast ratio. In addition, it will also have Wi-Fi and GPS. The new Pixon is to be a quad-band GSM and dual band 3G device that should be available in Europe from the end of June onwards. Customers in other regions (hopefully, the U.S.) should be able to get it in August this year.
Samsung Pixon12 M8910 Specifications
(EU)
source: Samsung via
OLED-Info