The new iPad to arrive in 30 more countries Friday and Saturday, Brazil and Saudi Arabia among them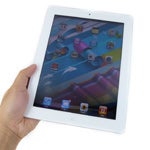 May 11 and 12 will see the availability of Apple's latest and greatest tablet, the
new iPad
, in 30 more countries around the world, the company listed. Foxconn's Brazilian plant saw an approval to assemble the device not long ago, went through
protests over working conditions
, and now the country will have an official launch this Friday.
Brazil commands the highest iPhone and iPad prices in the world
, despite that the devices are made there, so we are curious how the new iPad will fare in Sambaland.
The other countries set for launch on May 11 are
Argentina, Aruba, Bolivia, Botswana, Brazil, Cambodia, Chile, Costa Rica, Curaçao, Ecuador, French Guiana, Guadeloupe, Jamaica, Kenya, Madagascar, Malta, Martinique, Mauritius, Morocco, Peru, Taiwan, Tunisia, and Vietnam
.
The weekend will see the next batch of countries receiving an official launch on May 12 -
Bahrain, Egypt, Jordan, Kuwait, Qatar, Saudi Arabia, and the United Arab Emirates
. Apple is still trying to overcome hurdles before launching the new iPad in some crucial markets like China, where its
trademark dispute with Proview looks about to be settled
soon.