The new iPad and the Galaxy Tab S3 go on sale today, are you picking one?
25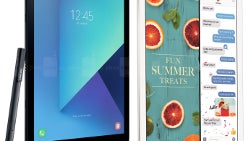 Apple's regular tablet line was getting a bit long in the tooth, as the last non-Pro iPad, the
Air 2
, came as far back as October 2014. While it has certainly become clear by now that people don't upgrade their tablets as often as their phones, two and a half years is a reasonable pause before the next iteration.
Surely enough, Apple just got to the airwaves this week to announce a new and improved
9.7" iPad
, but even without a "one more thing" uttered on stage, this one took us for a surprise anyway. Priced to move at $329 for the base version, the new iPad comes in silver, gold and space gray, and will be available to order at Apple.com and Apple Stores today, at 8am Pacific/11am Eastern. It's not a huge upgrade to its predecessor, but does come with a faster chipset and Touch ID scanner, and, at $330 for the Wi-Fi model, has never been cheaper.
Samsung strikes back today with its souped-up
Galaxy Tab S3
, whose predecessor was also outed quite a long time ago, in 2015. While the Tab S3 is a high-end $599 slate that is more of a direct competition to the
iPad Pro 9.7
, rather than Apple-s new 10-incher, its launch is certainly designed to coincide with the new iPad that Apple announced, and steal some of its thunder. It's certainly the most exciting week in the tablet universe that we've had for a while, that is why we wanted to ask you whether you intend to pick one of these slates, and which one would you get - the Pad or the Tab.