The new HTC One (M8) is here: do you like it?
99+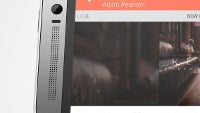 The new HTC One (M8) has finally arrived, putting an end to the
countless rumors
, and showing its real, official face. Coincidentally, though, that true face is not very different from what rumors painted it to be - the new One indeed comes with a radically different than all else
'Duo' camera
(this refers to the two rear cameras on its back) that allows you things like selecting the focus of an image after you capture it. Moreover, it offers this and a few other new image editing effects that are just not possible in the same form on other devices.
The new One also comes with the latest
Snapdragon 801 quad-core system chip
, an even more intense aluminum unibody construction, and 25% more powerful BoomSound front-facing stereo speakers. And it's not just that - HTC has improved the phone all around, even adding expandable storage via microSD cards of up to 128 gigs. Actually, the only change we can think of in the new One that could possibly bring forth some negativism is the
increased overall footprint of the device
- it's just larger and a bit bulkier than the original handset.
However, with all the improvements, we should not forget that the new HTC One is not floating in a vacuum. Quite the contrary - in fact, it's arrived in an ever more competitive Android environment, having to fight with devices like the
Samsung Galaxy S5
and
Sony Xperia Z2
.
With all this in mind and before the dust around it settles, we're looking forward to your reaction to the new HTC One:
did you like it?
Give us your opinion on HTC's 2014 flagship right below.