The new 9.7-inch iPad Pro includes the same amount of RAM as the iPhone SE
68
Yesterday, Apple took the wraps off its much-anticipated
9.7-inch iPad Pro
along with the 4-inch
iPhone SE
. Prior to the big spring gathering, it was thought that Apple would essentially condense the full-sized iPad Pro down into a smaller bundle. But those seeking a pro-level experience worthy of the name may be disappointed, for Apple seems to have stripped away quite a bit more than sheer size. Though the new slate does include the A9X chipset that keeps the iPad Pro ticking over, we recently learned that it will be a
slowed down, underclocked version
of the firm's most powerful mobile chip. Furthermore, it would now appear that the 9.7-inch iPad Pro offers a mere 2 gigs of RAM, which is rather underwhelming given that
the larger iPad Pro
ships with double that.
The fact that Apple develops hardware and software in-house has long since allowed the company to be less spec-heavy and yet still match or best its competitors for real-world performance. But it's not unreasonable to expect a 'Pro' device to at least match a previously-released 'Pro' device under the hood. It seems likely that Apple will continue to tout the 9.7-inch variant as being on the same level iPad Pro but smaller in profile. These early findings, however, sing a slightly different tune.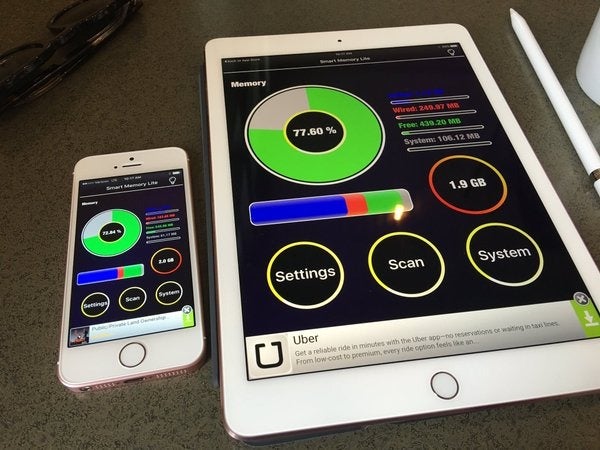 iPhone SE (left) and iPad Pro 9.7-inch showing 2 GB of RAM
TechCrunch
's Matt Panzarino has found that the 9.7-inch iPad Pro features 2 GB of RAM, as does the new iPhone SE. Incidentally, it is the same amount of RAM found in the
iPad Air 2
. This, coupled with the lower clock speed of the new Pro's A9X probably won't equate to a terribly noticeable (if any) drop in day-to-day performance versus the existing iPad Pro. Make no mistake, the 9.7-inch still looks a very solid, capable package. But it has to be said: 2 GB of RAM does not, in today's game, sound like enough on a device targeted at the pro audience.
Do you believe Apple has scrimped unnecessarily, or is the new slate's power sufficient enough? Let us know of your thoughts via the comments.