The miracle of watch-phones – 10 quirky wearables to 'question' your Android Wear purchase
10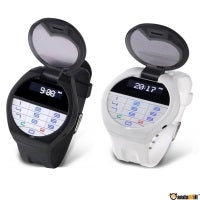 What is a watch-phone? Does it grow on trees? The watch-phone is a specimen unique to China. Basically, at some point – probably after they saw Sony's 2012 smart-watch - Chinese mobile manufacturers adopted the watch form-factor and made it theirs in surprising, clever, and often funny ways.
Unlike today's smart-watches, which are designed as servants to a smartphone, the Chinese watch-phone is a completely autonomous entity. It makes ample use of its assets – a built-in SIM card slot or two, a spec sheet of cheap internals, and a featurephone-like Java operating system to put the best and worst of pre-iPhone mobiles on your wrist. Concerns of usability, screen quality, battery life, or tasteful design don't matter much.
Thus, a new breed of mobile device was forged, that takes a certain type of humor to appreciate. Because, let's face it – getting one of these jewels for their ability to do calls and messages means signing up for weird stares and unreliable communication. With no further ado, here are ten watch-phones that will change your life.