The iPhone sold 700 million units since the original launched in 2007 making it the top-selling smartphone in the world
45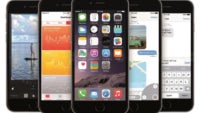 Well, folks, we have it straight from the horse's mouth – Apple is usually not very prone to share numbers and details, unless it's exceptionally proud of a specific achievement. Today, Tim Cook revealed that, since its launch, the iPhone line has sold over 700 million units. The milestone was hit only recently and this is in no small measure thanks to the fact that the iPhone 6 became the #1 top-selling smartphone for the
final quarter of 2014
– and by a large margin.
The
iPhone 6
and
6 Plus
were the first Apple-made handsets to sport "large" screens – something, which Cupertinians refused to add for a couple of years with their limit hard-set to the
iPhone 5
and
5s
4" display. Was it a marketing strategy, or was it simply a refusal to see the fact that people love more real estate on their handset displays – we will never know. What we do know, however, is that once the 4.7" iPhone 6 and the 5.5" iPhone 6 Plus hit the market – the whole tech world went nuts and the devices outsold the competition
during the Christmas season
like it was a walk in the park.
Will the Apple Watch reap the same success? We can't be certain, but let's wait and see!