The iPhone X, iPhone 8 and 8 Plus walk into a bar, which one would you get?
64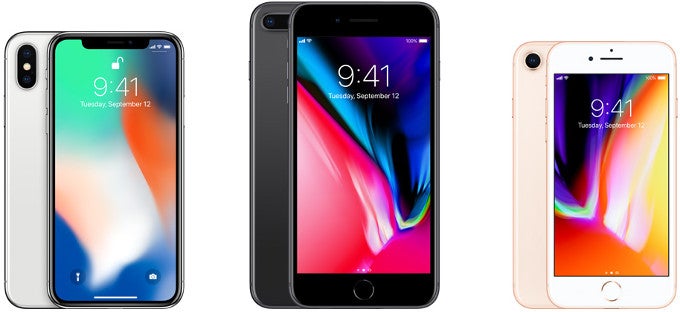 Left to right - iPhone X, 8 Plus and iPhone 8
The Three Amigos, the Three Stooges - whatever your ancient movie reference of choice, the new
iPhone 8
,
8 Plus
, and the exquisite
iPhone X
will be in our minds for a while this season, and a few after that, and not only because the X won't be released until the leaves start falling in November. Apple's biggest ever iPhone announcement left us with two significant upgrades in terms of chassis material, horse power and camera specs - the iPhone 8 and 8 Plus, and one fresh new "all-screen" iPhone X that Apple dubbed "the future of smartphones."
You can argue with that premise all you want, but it's usually Apple that laughs all the way to the bank, and something tells us this time won't be much different, despite the startling $999 price tag of the iPhone X. That is why we are curious to find out, if you are in the market for a new Apple handset, is it going to be the safer iPhone 8 or 8 Plus bets, or are you going all rogue without a home button and ready to
part with a grand for the iPhone X
when the October 27 pre-order date hits your wall calendar? Take a pick in the poll below, and tell us why in the comments.