The first Bluetooth fidget spinner is coming soon and we are already addicted
8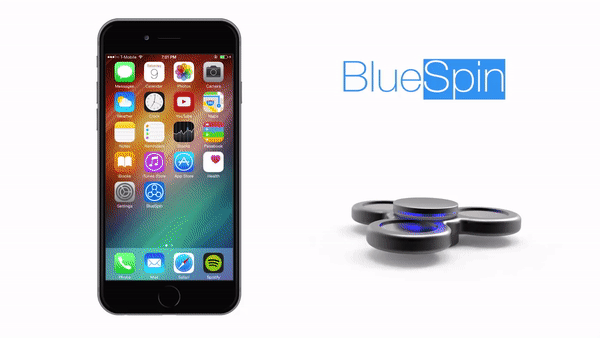 OK, brace yourselves, everyone, because we are entering a whole new era of fidget spinning and procrastinating.
Yes, it's a fancy-looking, Bluetooth-enabled, sensor-equipped, 'smart' fidget spinner that pairs with a mobile device. Yes, it comes with an app that monitors your spins and locates the spinner when you lose it. Please, meet BlueSpin.
BlueSpin kicks up a massive cloud of dust in the face of all those fidget spinner apps we have seen in the last few months, and renders them pretty much useless. BlueSpin sports both a physical spinner and an integrated app, so that you can experience the sweet physical thrill of the spin, and have your spins counted, recorded, analyzed, etc.
But it goes way, way beyond that. After pairing the spinner with your iOS or Android device and downloading the free app, one would be able to get into a whole fidget spinner community arena. Users would be allowed to share their scores with other users or directly on social media, challenge each other to 'special trick' showdowns and engage in in-app chat. Is this the next huge time-drain or what?
In terms of hardware and design, the gadget looks quite neat and sexy, with cool blue LED diodes inside the core that shed light onto the three spinning circles. Under the hood, one would find two touch sensor panels that track the touch of your fingers; a Bluetooth 4.0 module; a position sensor; a replaceable Li-Po 3.7V 230mA battery that should last up to a year; and a CPU that analyzes your spins and calculates score.
Apart from being able to find the spinner in an up 200ft (60m) range through the app, one could also locate nearby players and see their pins on an actual map of one's location.
The project is about to launch on Indiegogo and you should be able to order BlueSpin at some point in September this year. A single spinner will sell at $49, while discounts will be available for larger orders.
We can't imagine how BlueSpin won't hit its initial target of $20,000, as it seems to take the fidget spinner to a whole new dimension. However, we can't know exactly how real and accurate the spinner will feel before we've laid hands on it, but we are definitely hooked on the concept.
source:
Indiegogo
via
TheVerge