The dual core LG Optimus 2X is coming to the U.S. as the T-Mobile G2x?
16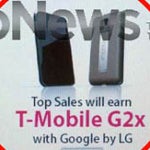 After video made its way around the internet showing the browser on the dual-core LG Optimus 2X blowing away the browser on the Apple iPhone 4 and the Samsung Galaxy S, the LG handset captured the kind of buzz that usually leads to big sales numbers. After an
initial launch in Korea
, the phone is now about to make its way through Europe en route to making its stateside appearance.
Based on the leaked internal LG document you see below, it would seem that the LG Optimus 2X will be launched in the U.S. by the nation's fourth largest carrier as the T-Mobile G2x. Although no launch date or pricing info was made available, it looks like the handset will be a prize that some T-Mobile reps could win for huge sales of the LG G-Slate tablet.
There probably won't be much difference between the LG Optimus 2X and the T-Mobile G2x. Both should have Tegra 2 dual-processors, 1.3 and 8MP front and rear facing cameras respectively, with HD 1080p video capture. The display will be 4 inches of WVGA resolution with 8GB of internal memory expandable by as much as an additional 32GB thanks to a microSD slot, and all powered by a 1500mAh battery. If there is a difference, it could be that the T-Mobile G2x gets 4G connectivity. After all, the carrier often calls itself the nation's largest 4G network.
source
TmoNews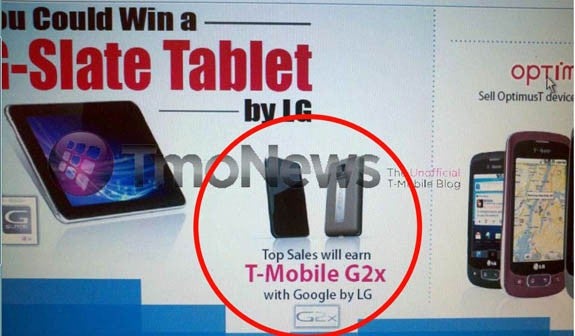 It looks like the LG Optimus 2X will come to the U.S. as the T-Mobile G2x