The bigger they are, the harder they need to be recharged often – 7 phones with huge batteries, but underwhelming "On" time
42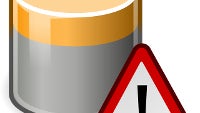 We here at Phone Arena believe battery life to be among the top areas that a handset needs to perform well in. Of course, hardware prowess – the ability to run the latest software, actual responsiveness, lack of lags, twitches, and stutters – is a top priority, but how long a buttery smooth system is actually able to run for is a very close second criteria.
So, we sometimes find ourselves very pleasantly surprised when a manufacturer outfits a handset with a relatively small battery, but somehow manages to squeeze out the most of it, making for impressive screen-on times. At other moments, however, we find ourselves taken aback by the short times that a phone with a massive juicebox can keep its lights on.
But which are these phones today? Well, we decided to take a look. Of course, we could dive in back through the years, but let's keep this relevant – we picked out the few handsets that are still current – either un-refreshed midrangers and top-shelfers, or ex-flagships that can still be bought from retailers as pretty adequate midrangers, which all have a battery capacity of 3,000 mAh or above, but somehow managed to last less than 7 hours on our battery benchmark test – a time that the
HTC One (M8)
(for example – there are, of course, others) was able to top, even with its smaller 2,600 mAh powerbox.
We remind you that our battery test consists of setting the phone screen's brightness to 200 nits, and then running a custom script on it, which replicates real-time usage.
So, here are the 7 biggest guys with the least stamina – listed from "not so bad" to "how did you manage to drop so fast?".

The G2 almost slipped away from this list, as it lasted 6 hours and 48 minutes on our test – just 12 minutes from the threshold we set. The handset can still be bought from a retailer or a carrier, as a pretty adequate midranger. However, by today's standards, its juicer longevity leans towards "average", which a 3,000 mAh battery should be able to top. Heavy users, beware, though, we'd understand if you can't resist the G2's impressive 76.28% screen-to-body ratio, and LG's style of placing the control buttons on the back of the device.

Oppo's unique N-series brings a very peculiar feature to the world of smartphones – instead of having a front- and back-facing camera, the Ns only have one snapper, which is attached to a
swiveling module
that can freely turn around on its axis. The N3 even introduced a motorized, remote-controlled swivel, which adds a couple more nifty features – such as, taking a panorama picture automatically.
While the
N1
housed a massive 3,610 mAh battery, which kept going for 8 hours and 6 minutes on our test, Oppo decided to cut down the dimensions of the N3, and nerfed the juicer to a 3,000 mAh one, which, as a result, only gave us a 6 hours and 28 minutes of screen-on time – trotting steadfast into average territory, even though handsets that tote similar hardware have survived longer, even with smaller juicers.

The G3 was the first widely available handset to come with a quad HD screen – its 5.5" display glows with the super-dense resolution of 1440 x 2560 pixels, and its 3,000 mAh battery obviously has trouble holding up for long, as it only lasted 6 hours and 14 minutes in our test. The G3's remedying qualities are its extremely compact body, considering the screen size, its laser autofocus-assisted camera, the ever-cool back button placement, and the pretty-looking faux-metal plastic body. So, power users should think twice, while casual text-and-callers should be able to rely on the G3 throughout the day, as long as they don't forget a nightly recharge.
Sure, the
Note 4
impressed us with an 8 hour and 43 minute screen-on time, squeezed from its 3,220 mAh battery. Its predecessor, however, does not fare so well – while it has a 3,200 mAh power box – just 20 mAh less than the latest iteration of the phablet – the Note 3 only held up for 6 hours and 8 minutes on our test. This is even 2 hours less than what the 3,100 mAh juicer of the cheaper
Galaxy Note 3 Neo
gave us. Come on, Note 3, you're the bigger sibling – this is probably embarrassing.
We've been
hearing
about a
Sony Xperia Z4 Ultra
being in the pipeline, and it's definitely high-time for that to happen – for now, if you crave a super-large, 6.4"-screened phablet from Sony, with the best possible specs – the best you could do is the original Xperia Z Ultra. Its 7.06 x 3.63 x 0.26 inches (179.4 x 92.2 x 6.5 mm) body houses a 3,050 mAh battery, which only lasted 4 hours and 52 minutes on our test. As a comparison – the midrange
Xperia T2 Ultra
, which was released around half a year after the Z Ultra, lasted 10 hours and 16 minutes, with its 3,000 mAh powerbox. Let's hope that whatever optimization Sony has been doing on its latest handsets makes its way to the rumored Z4 Ultra as well.

The Find 7 was Oppo's first flagship to tote the new QHD resolution, which everyone seems to be racing towards nowadays. Unfortunately, the effort gave poor results, as we found the display to be dim, cold, and inaccurate. To top it off, the 3,000 mAh battery in the rather bulky Find 7 only managed to last 4 hours and 30 minutes. Thankfully, Oppo enthusiasts still have the choice of getting a
Find 7a
– the slightly "downgraded" version, which has a 1080p resolution, 1 GB less RAM, and a slightly different variant of the Snapdragon 801 CPU. Still, it lasts 6 hours and 6 minutes, which is still average at the very best, but hey – at least it's 90 minutes more than the "bigger brother".
Say "Hello" to the King of this list – the 6" phablet from Alcatel, with its 3,100 mAh battery, which made up for the underwhelming 4 hours and 28 minutes screen-on time on our test. We actually took the OneTouch up as a daily driver, looking to confirm the rather shocking result. We found that, with light-to-medium usage, the phone would last us through the day. However, any need to write extensive texts / emails, take photos, do a lot of calls, as some days may require, quickly melt its percentage and the battery screams "Chaaarge!".
And here's all of them, neatly listed next to each other