The bigger they are, the harder the new iPhones fall in drop test
87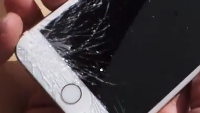 It might be hard to watch, but a drop test has been conducted on both the
Apple iPhone 6
and the
Apple iPhone 6 Plus
. Each model was dropped on the back, front and side to see how they would stand up to such punishment. No matter how much you might baby your iPhone, sometimes you just find yourself losing the grip on your pride and joy. And then there is that moment of disbelief that quickly turns to dismay when you see your handset kissing the sidewalk.
Both the 4.7 inch iPhone 6 and the 5.5 inch iPhone 6 Plus suffered minimal damage when dropped on their backs. A few scuff marks here and there were the only physical result of the falls. The side test resulted in more drama. While the smaller iPhone 6 survived with some scuffs, the phablet took it on the chin. The side drop shattered the glass. And while the handset appeared to be functioning, the display was coming apart from the body.
When the iPhone 6 was dropped face first, the screen shattered pretty violently. Like the damaged phablet, the screen on the smaller model also appeared to be coming apart from the body. Despite the cracked screen, the phone appeared to be functioning fully. The Apple iPhone 6 Plus, already sporting a cracked screen, went through its front-first drop with very little additional damage to the display. In any event, it was still working although hardly usable.
The bottom line is that both models can take a hit, and still function internally. But when it comes to the screen, you are going to wish that Apple
had fixed the production problems
that kept it from employing sapphire glass. Be very cautious with your new iPhones, even more so than you were with older models.
Thanks for the tip!
source:
PhoneBuff