The best predictions for 2013: 1 billion smartphones shipped, but the PC not dead yet
28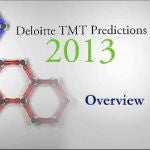 Normally, we don't give a lot of respect to analysts, because more often than not, they just say something that is common sense, or easily guessed. But, we have to give credit where it is due, because Deloitte has released its TMT (technology, media, & telecommunications) Predictions for 2013, and these are some of the most well thought out predictions we've seen in a while.
The Deloitte analysts do predict some relatively easy stuff, like that there will be 1 billion smartphone shipments in 2013, but they also go into amazing depth on a number of topics, and have a very interesting explanation on why the PC isn't dead yet. We won't spoil the whole thing, but according to Deloitte, the PC isn't going anywhere and hasn't been, but we've just been looking at the wrong metrics.
Sales numbers aren't the key, but rather usage numbers
.
On the mobile side, Deloitte says that not only will there be 1 billion smartphone shipments in 2013, but the install base for smartphones will rise to 2 billion. Of course,
the number of people who don't use their smartphones any differently than they would a feature phone is also set to rise
. Additionally, they say that "mobile advertising" will be split into "smartphone advertising" and "tablet advertising", and maybe the most interesting mobile prediction is that mobile carriers will begin offering "
All-you-can-app" plans
. This means that users will pay a flat rate for unlimited everything, but only have access to a certain set of apps, and plans will be cheaper for it.
With mobile spectrum, Deloitte expects that LTE will have a big year (no surprise there,) but also that the troubles surrounding mobile spectrum will get worse before it gets better. Smartphones and tablets will be adopted so quickly, and usage on mobile devices will rise so much that bandwidth capabilities just won't be able to keep up. And, if nothing is done about the problem, "by 2014 the US alone may suffer a 275 MHz spectral 'deficit'", which could lead to a scene reminiscent of the early days of dial-up internet, where peak times may see "two to three times as many failed attempts to connect, three to four times as many dropped calls or frozen web browsing, and both
3G and 4G speeds 50-90 percent lower than expected
."
We really have to suggest that you dig in to the full predictions PDF, because there are a lot of really good things in there outside of the mobile sphere, like predictions on password security, crowdfunding, 4k TVs, and a lot more. Possibly the reason we like this one so much is that Deloitte isn't trying to prove how smart they are (as most analysts are), but rather "to catalyze debate around significant developments that may require companies or governments to respond." More simply put, they just want to start a conversation, and that's something we can definitely get behind.