The best S Pen apps for the Samsung Galaxy Note 3, II, Neo, 8.0, 10.1 and NotePRO
19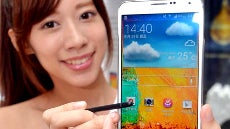 With the Note family Samsung carved out an entirely new market niche in the great nothingness formed after the resistive touchscreens with stylus were replaced by capacitive ones where you use your finger for navigation.
It was a bold move that required two risks - introduce a giant screen phone in an era when the average smartphone display must have been about 4" or even less, and equip it with a stylus decent enough not to stay in the silo most of the time.
The first
Note
proved that people were waiting on precisely such a combo, but the subsequent phones and tablets in the range really confirmed the
latent demand
, as they came with even larger screens in a more compact form, and a greatly improved stylus that can be put to a good use in more situations. Don't forget this year Samsung went mid-range with the franchise, releasing a budget
Note 3 Neo
phablet model, too.
We are rounding up some of the best Android apps that take advantage of the
S Pen stylus
in the family, apart from the excellent stock ones like S Note, in case you've grabbed a Note handset or tablet, and are heading for a Play Store
window
shopping spree.