The average iOS app made 4x more money than on Android in Q2, game revenue from China beats the US now
28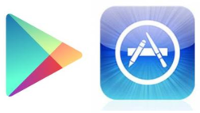 Most of the money that comes from software development for phones and tablets, is from gaming, both at the App Store and at Google Play, and the latest Q2 rankings from the mobile analytic shop App Annie come to prove that notion once again.
Ever since the App Store and Google Play application shops inception, their total number of downloads and revenue have been growing exponentially, but comparing the two paints two completely different paths. While in Q2 the Play Store served twice as many app downloads, the App Store devs earned twice as much on average than their Android counterparts.
Moreover, in the lucrative gaming category, iOS gamers spent more in China than in the US for the first time, showing how important the Chinese market is for Apple once again, even if the
authorities are trying to restrict its span there
. There is plenty more to mull over in the charts below that the research firm has compiled on the state of the app industry for the previous quarter, but we'll just slide one spoiler - just three countries (the US, China and Japan) account for the lion's share of developer revenue.
If we discount Japan where it is really a one-horse race against the Line social network app, we are left with why everyone is trying to focus on the US and China these days, and Google can't even sell apps in China, which might explain why the gap in revenue between the Play Store and App Store continues to widen.