The average Android phone consumes more data per month than an Apple iPhone or Windows Phone
63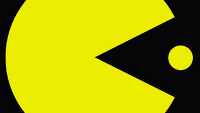 You guys and gals might remember Ericsson as being Sony's former manufacturing partner in the smartphone business. Before their divorce, the two combined on models like the
Sony Ericsson Xperia X10
, which might get the memory center of your brain flowing. What brings Ericsson to mind is its annual mobile study. This year's release included a chart showing that Android users consume more data on average, than users of other platforms.
The numbers show that Android phones guzzle an average of 2.2GB of data each month. In comparison, the average Apple iPhone consumes 1.7GB of the sweet stuff each month, while the average Windows Phone uses 1.4GB of data. Exactly a week ago, we told you about the predictions for next year made by consultant Chetan Sharma, who pointed out that high-end Android phones in the U.S.
average about 4GB of data usage a month
.
When you stop to think about it, there are a number of common sense reasons for Android models to eat more data each month. Sharma notes that the larger size of Android screens means that larger files are downloaded with more pixels. What Sharma didn't point out, is that with these lovely HD screens, Android users might also feel more compelled to view a movie or a television show on their device. Thanks to the GDR3 update, this is something that Windows Phone users will start to feel depending on the model they own. Right now, only the
Nokia Lumia 1520
has a large screen with a 1080 x 1920 resolution on the platform. The oft-rumored, but never announced
Nokia Lumia 929
will also offer 5 inches of FHD goodness for Windows Phone users when and if it is ever released. The last bit of news on that front,
suggests a February release for the phone
.
But we digress. Another reason for a Android phone to eat more data per month than an iPhone is the former's tendency to be inefficient at running apps, according to Sharma. Handsets running Google's open source OS could have a number of apps running in the background, collecting location data for example. The consultant also notes that because Android users don't (or can't) update their phones as frequently as iOS, updates to data management on newer Android builds do not reach the intended recipient.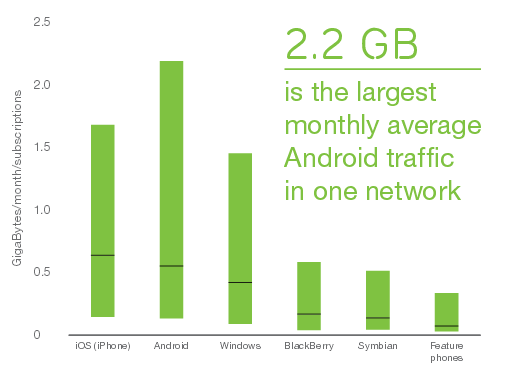 Android phones use 2.2GB of data each month on average
source:
Ericsson
via
NYTimes
,
BGR