The answer is blowin' in the wind, thanks to Vaavud's smartphone accessory and app
16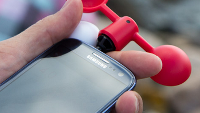 Vaavud has taken its funding needs from a successful Kickstarter campaign, to a group of angel investors that put $375,000 into the company. Vaavud uses a smartphone, an app, and a rather low-tech meter (made with two pieces of plastic) to measure wind speed, direction, and more information that can be discovered by tracking which way the wind blows.
The meter itself fits into the 3.5mm earphone jack on a smartphone. The sound from the wind is picked up using the earphone jack, and converted into a windspeed measurement using the app. The app analyzes and collects the data, giving Vaavud readings from the wind around the world. The company is receiving 4000 new measurements per week which is quite a feat considering that it is relying on consumers buying the meter for $50 a pop.
The meter works with the
Apple iPhone 4
,
Apple iPhone 4s
,
Apple iPhone 5
,
Apple iPhone 5c
and
Apple iPhone 5s
. It also is supported by the
Samsung Galaxy S III
,
Samsung Galaxy S4
,
Nexus 5
and the
HTC One
. An algorithm designed by the company even allows indoor readings to be eliminated, and can also tell when someone blows on the meter to create false readings.
Is anyone interested in wind measurements? You bet they are. Agricultural giant Lantmännen Maskin AB is partners with Vaavud on a project to measure wind speed in Sweden to keep a close eye on crops that are using pesticide. The country has strict new regulations on using the poison with certain crops that are digested by humans.
The combination of low and high tech just might teach us a thing or two about the wind, and could help develop technology in the future that improves our lives.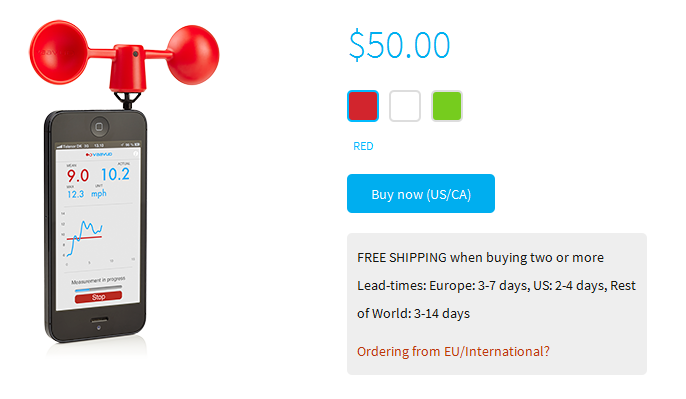 The Vaavud wind meter is $50 a pop
source:
Vaaud
via
TechCrunch