The Xiaomi Mi 5 tear-down is here, gaze at the Chinese wonder's premium innards
26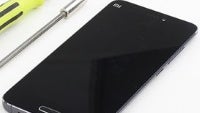 Without doubt, the Xiaomi Mi 5 has been a hit at this year's MWC. That's hardly surprising, considering the smartphone's stylish design, bustling spec sheet, and traditionally low price tag. Being so popular and anxiously anticipated by the Mi fan community, the Xiaomi Mi 5 is already getting the tear-down treatment, less than 24 hours after it launched. It's no secret that the engineers stuffed lots of premium components into the slim, 0.29in (7.5mm) shell, so behold the opportunity to take a peek inside the Mi 5's top-of-the-line ceramic back version.
Before we get to the images, here are some of the more interesting observations made by the technicians. First things first, the teardown confirms the lack of a MicroSD card slot on the device. However, the phone does support dual-SIM 4G+ (LTE-A) SIM cards, and the NFC chip is clearly visible in one of the photos.
Replacing the battery by yourself will void your warranty.
Also of note is that the inside of the Mi 5 is laid out in three stages. The portion above the battery and below it can be dismounted by removing the supporting screws, revealing additional boards and innards. The top PCB board is supported by a metal frame, and the Snapdragon 820 chipset is coated with thermal substance. No additional cooling equipment is present, which means Qualcomm must have done a good enough job with the Snapdragon 820 in terms of heat generation.
Just like the specs say it, the phone comes with a compact 3000mAh lithium ion polymer battery. The technicians say one could replace it themselves without too much of a hassle, but the process will void your warranty.
The full gallery of images is available in the source link below. The gallery has a taste of the good stuff for you, and additional information about the Xiaomi Mi 5 can be found below.
source:
IT168
via
GizmoChina
More about the Xiaomi Mi 5: