The Turing Monolith Chaconne is a spec sheet fever dream
14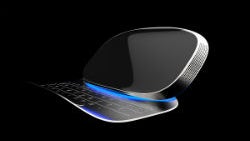 You guys may have thought that the
Turing Phone Cadenza
was a one-off prank, but Turing Robotics Industries (TRI) really wants to convince you that they are not using all of the drugs as you might expect, but that they are a legit company with legit products. With that in mind, the latest announcement for the Turing Monolith Chaconne, TRI gives a glimpse into its R&D lab as well. And again, TRI is pushing the idea of artificial intelligence, although to hear them explain it, you might think they are going to put Skynet in your pocket.
But, you're probably here for the fever dream that is the spec sheet for the Turing Monolith Chaconne which TRI claims will be released in 2018, although we're unsure they're using the same calendar as the rest of us. TRI knew they had to turn up the heat on this one, so rather than dropping two Snapdragon 830 SoCs in there, the Chaconne will feature three of those bad boys. We assume this is because Qualcomm hasn't released its roadmap for 2018, but TRI says it's because they are going to connect "multiple CPUs via WiGig by implementing an ad-hoc driver to the 60GHz channel via on-board USB3.0. This complicated computing process stores a transient matrix in SSD of CPU(1), then it recomputes and shares the transient matrix with the other SSD of CPU(2) simultaneously. This results in the CPUs sharing their computing power in parallel."
So, yeah, sorry. We were wrong. TRI probably has taken all of the drugs.
And, that's not all! The Monolith will feature the same cameras as the Cadenza (because you can't upgrade
everything
), the same OS, and the same quad-SIM setup. But, it will bump the storage from 1TB to 1.2TB (that's an extra 200GB just because), top up the RAM from 12GB to 18GB (because you have to take advantage of all three SoCs), and give it all a bit more juice with 120wh of battery rather than just 100wh.
TRI says that all of this will create a "device that falls in between the mobile phone and tablet categories" because apparently they don't realize that tablets generally have the same processing power as phones, what with using the same hardware.
Just in case all of that wasn't enough, TRI also claims the Monolith will feature something called A.L.A.N, and teases it as being the next thing to be revealed. Obviously the name is a reference to Alan Turing, and giving something a name like that would imply some sort of AI assistant if we were still in the real world. But, we're in TRI's world now, so there's no limit to what A.L.A.N. could be.
Sound off in the comments what you think the acronym might mean. Artificial Lifeform for Annihilating Nature?