The Turing Phone Cadenza specs are too ridiculous to believe
27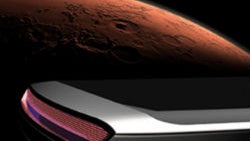 Every once in a while an announcement for a phone comes out that is -- for lack of a better term -- bananas. If you didn't know better, you might think the report covered a concept phone created by someone who doesn't have a very good understanding of how technology works, and we would love to claim that's what we're seeing with the Turing Phone Cadenza. But, this seems to really be coming from Turing Robotics Industries (TRI).
The claim is that in 2017, TRI will release a device called the Turing Phone Cadenza that has specs that are too insane to be believed. The Cadenza is said to be powered by two (yes two) Snapdragon 830 SoCs. The 830 is planned for release in early 2017, but why a phone would need two of them is hard to imagine. Maybe it's because the Cadenza is also supposed to ship with 12GB of RAM and the Snapdragon 830 only supports up to 8GB of RAM, so you would need two in order to make use of 12GB of RAM.
The Cadenza is said to have dual 20-megapixel front cameras and a 60-megapixel "iMAX 6K Quad Rear Camera, Triplet Lens/T1.2" which makes no sense unless you assume that's a typo and it actually should be an F1.2 aperture lens. Of course, that only helps it make sense in terms of using real terminology. Obviously, a camera that captures 60MP photos or 6K video would need a lot of storage so the device has 1-terabyte of storage and two microSD card slots.
For connectivity, you'll get four nanoSIM slots (because why not) and WiGig. And, obviously powering a device like this will take a lot of juice, so the Cadenza will have maybe the least believable thing on the whole spec sheet, which is 100wh from three power sources: a 2400mAh graphene superconductor battery, a 1600mAh lithium ion battery, and a hydrogen fuel cell.
And, just in case all of that isn't crazy enough, there's also the Swordfish OS (supposedly a variant of Sailfish) capable of deep learning, running a neural network, natural language processing, and using differential privacy. It's honestly like someone at TRI just put together a spreadsheet of buzz words and the silliest collection of specs and justified it by saying "It is our belief that we can disrupt the status quo by bringing the Turing Phone Cadenza from the future to the present."