The Superbook can make your Android phone into a laptop for $99
22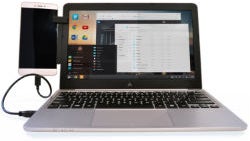 The idea of making your Android phone convert to a laptop is not really new, though it has never been executed terribly well. The Motorola Atrix was not a good laptop experience. The Asus Padfone X was an okay phone and an okay tablet but didn't add much as a laptop. The latest to take on the challenge is the Superbook which will soon launch as a Kickstarter project.
The Superbook isn't trying too hard to complicate the matter. It's really just an 11.6-inch display with a resolution of 1366 x 768, a keyboard, multitouch trackpad, and a battery. You provide an Android device and connect it to the Superbook frame via either a micro-USB or USB-C cable. The real magic is done by the Andromium OS app that you install on your phone and creates the desktop environment, complete with multi-window support.
Technically, you don't even need the Superbook dock and can use any compatible hardware dock that connects to a monitor and USB keyboard/mouse, or you can even use the Andromium OS app with a Chromecast. However, if you don't want to go through all of that, the Superbook itself will cost just $99 during the Kickstarter campaign when that begins.
Andromium OS will work with any device running Android 4.4.2 KitKat or higher, but the developer does recommend having a Snapdragon 800 SoC and at least 2GB of RAM.

Superbook Demo from Andromium Inc. on Vimeo.