The Remix IO is a 4K media streamer that turns your TV into an Android powerhouse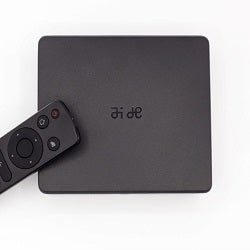 Media streaming boxes haven't changed all that much in the past few years. Sure, they've gotten faster, are able to showcase 4K and HDR video content, and have gotten slimmer and sleeker, but aside from that, there haven't been any major changes in regards to their overall functionality. They stream video and music content, allow you to play a few casual games, but that's about it. They're perfectly fine for folks who just want to use them to watch their favorite Netflix or YouTube series, but if you've been looking for something that's a bit more powerful and functional, the newly announced Remix IO just might be the solution you've been waiting for.
Remix IO comes by way of Jide, the company who previously released the Remix Ultra Tablet and Remix Mini. These two devices featured the company's Remix OS, which is essentially a custom version of Android that turns the OS into a desktop-like interface with a lot of special tweaks and features to make it more productive and useful. Remix OS makes its way to the Remix IO, and that really is one of the highlights of the new media streaming device.
Unlike the proprietary operating systems that most media streaming boxes run on, Remix OS is a full-fledged version of Android. That mean's you've got access to the Chrome, Google Drive, Netflix, YouTube, Facebook, Twitter, Skype, and pretty much any other Android app that you can think of. However, with the Remix IO, Jide has broken the Remix OS up into two different sections - a TV mode and the traditional Remix OS that's been present on the company's past two devices. TV mode looks similar to other interfaces seen on the likes of Android TV, as the interface is redesigned to feature larger app icons, TV-specific apps, etc. It's quite simple to switch between the two modes, so you've got the perfect setup whether you want to binge-watch your favorite series or start working on an essay for your English class.
In regards to the hardware that the Remix IO is packing in, the spec sheet is actually quite impressive. The device is capable of streaming 4K video content at 60 FPS with HDR graphics. An octa-core processor and 2GB of RAM keeps everything chugging along as smooth as possible, and the 16GB of included storage with microSD expansion helps to ensure that you never run out of storage. Couple all that with HDMI, VGA, 4 x USB 2.0 ports, an audio jack, and an Ethernet port, and the Remix IO has you covered on all of the ports you could ever need.
Jide is currently running a Kickstarter campaign for the Remix IO, and at the time of this writing, the company has raised just around $77,000 out of their $250,000 goal with 30 days left to meet it. Pledging $99 or more will secure you with a Remix IO and its included remote, and Jide is estimating that deliveries should be going out sometime in March of 2017. And, as a nice bonus, getting a friend of yours to back the project with you will entitle you to getting a second Remix IO for free.
Pledging $99 or more will secure you with a Remix IO
The Remix IO sure does showcase a lot of promise, and the prospect of having essentially both Android and Android TV in once single device really is quite interesting. The device really is differentiating itself from pretty much every other major streaming box that's out there, so here's to hoping that the company can meet its goal quickly so this thing can become a reality sooner rather than later.