The PuzzlePhone, a realistic modular smartphone, is now doing a crowdfunding round via Indiegogo
13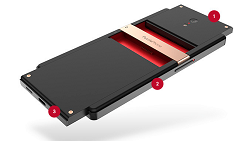 Modular smartphones appear to be an emerging trend, but with Google's Project Ara looming off in the distant horizon, it would look like the technology just isn't there to support the launch of fully modular phones. Fortunately, it looks like Google isn't the only company that's actively investigating the modular phone concept.
Since back in December 2014,
the PuzzlePhone revealed itself
as a noteworthy challenger to Google's Project Ara, and now the Finland-based company behind the phone has taken to Indiegogo to crowdfund the money it needs for manufacturing and shipping the product.
While Google wants to make a phone that's built out of individuable interchangeable components, the PuzzlePhone takes a different, simpler approach. Each PuzzlePhone consists out of three modules, ones that package together components by category.
The brain is made up out the main electronic components: the CPU, GPU, the RAM, and the internal storage. The team behind the PuzzlePhone says that this is the module that most users are likely to want to upgrade in the future. The spine consists out of the display, the speakers, and the microphone. The heart is the phone's battery.
Compared to Project Ara, the PuzzlePhone fails to completely negate the waist problem, as the user will make do with multiple components, some of which are still useful, when installing a new module. However, it would seem like this compromise is what brings the PuzzlePhone closer to an actual product, compared to the concept, somewhat utopian nature of Project Ara.
In terms of hardware, the PuzzlePhone features a design that the manufacturer claims to be "good for years". It's definitely a unique and sturdy-looking design that sets the phone apart in a sea of generic black slabs. Furthermore, the phone is built from eco-friendly materials.
The PuzzlePhone comes with specs such as a 5-inch display with a resolution of 1080 by 1920 pixels, an octa-core processor (undisclosed model) paired with 3GB of RAM, a 12MP primary camera, and a 5MP secondary shooter on the front. In terms of software, the PuzzlePhone is designed with Android 6.0 Marshmallow in mind.
The base model comes with 16GB of internal storage space and black plastic details. If you're willing to pledge $100 more you can get a version with 32GB of internal storage and a metal trim. Spend $777 and you can get the 64GB version with copper details.
The idea, the specs, the design, the price, there's a lot to like about the PuzzlePhone. Unfortunately, however, the manufacturer says that the first units aren't expected to ship until September 2016 at the earliest. That's a long wait for a device you're expected to pay at least $333.