The Oppo N1 smashes our battery life charts, perseveres for over 8 hours
26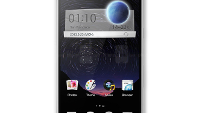 This may not apply to you, but there's no denying that battery life, in a rather idiosyncratic manner, gets a tad left behind when people contrast and compare the all-important hardware specs of a smartphone. Admittedly, this trend has started reversing lately, as we see more and more of you are actively concerned with the amount of juice a device is packing, though it's still rather safe to say that the general population is a tad oblivious.
For those of you that care, however, we're announcing a new chart-topper in the form of the giant Oppo N1. The giant 5.9-incher managed to persevere for a massive 8 hours and 6 minutes on our in-house test, which is pretty heavy. Of course, that 3610mAh battery sure helps, but it's hard to deny that devices with even larger batteries have struggled to keep up with this kind of a result. In other words, we're finally getting to that coveted place, where a day and beyond on a single charge doesn't look like a mirage anymore.
We've hand-picked some of the most popular devices below for your viewing pleasure, so take a peek.
N.b. If you want to compare the scores with a phone you're interested in, you can add it from the lower left corner. Keep in mind that only phones that have gone through our script are ranked.