The "One Sony" strategy unveiled, CEO Kaz Hirai vows to make Sony a leading player in mobile
9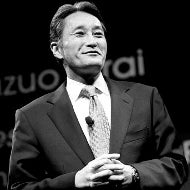 Sony's new and energetic CEO Kazuo Hirai today shed some light on the
upcoming "One Sony" strategy
he was mulling since he stepped into the position, and also confirmed
the rumor there will be 10, 000 jobs out of Sony
, accounting for about 6% of the global workforce. These will include layoffs, as well as businesses that Sony intends to spin off.
We are most interested in how this strategy will affect the company's smartphones and tablets, so we were delighted to hear Kaz Hirai vouching to
make Sony a leading player in mobile again
.
After the split with Ericsson late last year, Sony quickly outed a new and compelling Xperia portfolio, so we are confident the best, like
the Hayabusa handset
, is yet to come from it this year. "
Smartphones will become the hub device
", said Mr Hirai, and we couldn't agree more.
He also commented that the PlayStation network will be expanded online to include all Sony devices, merging the three delivery platform that are active now.
"
Sony has always been an entrepreneurial company. That spirit has not changed... Sony will change
", was Kazuo Hirai's promise to investors and tech journalists at the press conference today, and that's great to hear, since Sony has a lot to offer.