After a 10 000 jobs cut, now Sony ups its annual net loss estimate to $6.4 billion
4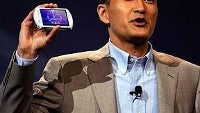 Sony's
new CEO Kaz Hirai is hard at work restructuring the company
, reshuffling departments and rolling heads. 10, 000 heads, to be precise, as that's the alleged shrinkage in work force Sony is planning, amounting to about 6% cuts.
Today Sony issued a warning that its loss for the fiscal year that ended March 31 will be more than it estimated before, due to tax liabilities, to the tune of the staggering $6.4 billion. That is more than double the previous estimate, just to put things in perspective, and is valid for the company as a whole, not only for its mobile business, of course.
Unpleasant slap in the face indeed, but Kaz Hirai already said Sony will be getting out of doldrums this year by refocusing towards its winning businesses, like mobile and the PlayStation franchise. He also announced
the "One Sony" initiative
, for consistent user experience across all of the company's electronics.
Sony's new CEO expects the restructuring to be complete this year, and the company to be profitable, so we'll keep an eye on the financials and wish one of the best Android manufacturers to pull through this tough period quicker, so it can grace us with more excellent devices like the Xperia S and gang.